Prince Charles awarded highest military ranks by Queen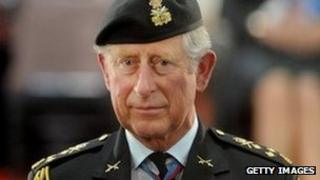 The Prince of Wales has been awarded the highest rank in all three military services by the Queen.
Prince Charles becomes a Field Marshal, Admiral of the Fleet and Marshal of the Royal Air Force.
His appointment to the honorary five-star ranks recognises his support for the Queen as Commander-in-Chief.
It comes as the Duke of Edinburgh prepares to attend the Trooping the Colour ceremony in London on Saturday, a week after leaving hospital.
Special circumstances
Buckingham Palace said the Prince of Wales's appointments were not related to the Queen's Birthday Honours.
Two other members of the Royal Family already hold five-star military ranks, the Duke of Edinburgh in all three services and the Duke of Kent, who is a Field Marshal.
Promoting heads of the services to five-star ranks was stopped in 1995 to cut costs but has been retained in special circumstances.
General the Lord Guthrie has also been awarded the honorary rank of Field Marshal.
He was the first military chief not to be appointed to the highest rank when he was Chief of the Defence Staff between 1997 and 2001.
Hospital admission
Before the Trooping the Colour ceremony, the Duke of Edinburgh's first official engagement since leaving hospital was a dinner at Buckingham Palace on Friday.
He acted as host in his role of Colonel of the Grenadier Guards.
Prince Philip was admitted to hospital with a bladder infection shortly before the Diamond Jubilee concert on 4 June.
The duke was released from hospital on 9 June, a day before his 91st birthday.
The Queen will take the salute at the annual Trooping the Colour in Horse Guards Parade, in honour of the monarch's official birthday, followed by an RAF flypast at Buckingham Palace.