Leveson Inquiry: Murdoch too powerful - Ed Miliband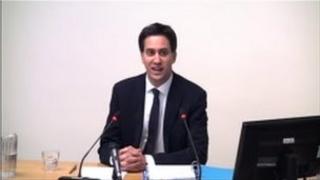 Labour leader Ed Miliband has told the Leveson Inquiry that Rupert Murdoch's dominance of the British media fuelled his empire's "arrogance".
He said News International had "a sense of power without responsibility" because of its 37% share of the newspaper market and its BSkyB stake.
Mr Miliband said his aim was "not to stifle one particular organisation or another - my aim is plurality".
He said he had been "too slow" to speak out on the phone hacking issue.
The Labour leader said he met Mr Murdoch at a News Corporation summer party in June 2011, but said they spoke only about US politics.
"I believe I should have raised the issue of phone hacking. I didn't," he told the inquiry.
Mr Miliband earlier said he believed there had been a collective failure over phone hacking.
"There is clearly something that has gone very wrong in the way parts of the press deal with individuals who don't seek celebrity and I hope that can put right by some of the recommendations of this inquiry," he said.
"It's right to acknowledge that a failure to get to grips with these issues earlier is a collective failure of the establishment. The press, the police, who didn't investigate properly, and the politicians who were aware of what was going on but didn't speak out."
'Mutual contempt'
He went on: "At its worst there is a mutual culture of contempt - from the press who think politicians aren't straight with them and who behave badly, and the politicians who think they are not going to get a fair hearing."
He said politicians often seek closeness with the media because they think it is a way of getting a "good hearing".
"Organisations like News International had huge power and I think politicians were reticent to speak about some of these practices that were exposed. I include myself in that. There came a moment when I found it impossible not to speak out. I knew at that moment I was crossing a rubicon," he said.
News International held 37% of the market until the closure of the News of the World but still retains a 34% share, the inquiry was told.
"At the very starting point of this, I don't believe that one person should continue to control 37% - or now 34% post the Sun on Sunday - of the newspaper market. My strong instinct is that is too much," said Mr Miliband.
Mr Miliband had 15 contacts with News International from September 2010 to July 2011 - when the phone hacking revelations mounted - but only one after that, the inquiry heard.
He said Labour had been too close to News International. "What I mean by too close is that we didn't speak out on these issues when there was increasing evidence of News International's behaviour," he said.
He called for a public inquiry into phone hacking in July 2011, but said he had been "too slow to speak out".
"I knew at that moment that I was crossing a rubicon because this would be seen by NI as pretty much an act of war. I think in retrospect I would prefer if I had said more earlier," he said.
'Fast-track justice'
Mr Miliband said he believed some form of statutory regulation of the press was needed.
He said any new regulatory system should be "independent", "comprehensive" and "accessible" and offer "fast-track justice or redress for individuals".
The inquiry is currently focusing on the relationship between the press and politicians.
After former prime minister Gordon Brown told the inquiry on Monday he did not instruct his aides to use the media to brief against ministers, Mr Miliband was asked if he was aware of off-the-record briefings against Tony Blair and other government ministers by Ed Balls, Charlie Whelan or Damian McBride.
Mr Miliband - who was at the time known as a "Brownite" or Brown supporter - told the hearing he had not in relation to Mr Balls, but Mr Whelan had left the government in 1999 in part "because of his style of operation", which included such briefings.
On the question of Mr McBride, he said, he had warned Gordon Brown himself about the aide.
"On Damian McBride, when I was a Cabinet minister, I did raise a specific concern that I had with Mr Brown, I believe in September 2008, about some of Mr McBride's activities," he said.
Earlier, Sir John Major told the inquiry Gordon Brown's closest allies had spread lies about him "on a number of occasions", leaving him so furious he had written to then Cabinet Secretary Gus O'Donnell about it.
The first time was in 2005 when he returned from a trip overseas to headlines claiming he, along with former Chancellor Norman Lamont, had blocked the release of papers relating to Black Wednesday.
That was "utterly untrue" and the pair were both "very angry", Sir John said.
The second occasion followed stories suggesting Sir John had made representations calling for Zimbabwe President Robert Mugabe's knighthood not to be withdrawn.
Sir John also told the inquiry that Rupert Murdoch warned him to switch policy on Europe or his newspapers would not support him.
Sir John, who was prime minister from 1990 until the 1997, recalled the exchange from a private meeting in 1997, which he said he had not spoken about before.