Race 'issue' in stop and searches, study into act finds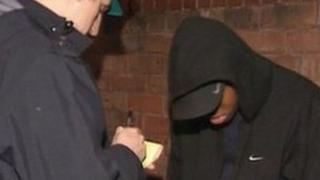 Police looking for weapons are more likely to use stop and search powers against black, Asian and mixed-race people than white people in some parts of England, research suggests.
More than 300,000 incidents between 2008 and 2011 were examined by the Equality and Human Rights Commission.
It said the West Midlands, Greater Manchester and Met forces had all acted "disproportionately".
Police say the practice targets knife and gang crime but is under review.
The EHRC research looked at the use of Section 60 of the Criminal Justice and Public Order Act 1994, which was originally introduced to tackle football hooligans.
Unlike stop and search powers under the Police and Criminal Evidence Act, officers are not required to suspect a crime is about to be committed when they search pedestrians or vehicles but they must work within a specified area and during a set period of time.
The EHRC previously successfully campaigned for an end to anti-terrorism stop and search legislation and has worked with police forces and the Home Office to bring about changes to other stop and search powers after expressing similar concerns about the targeting of ethnic communities.
In January the Met Police announced a radical overhaul of all its stop and search powers.
Simon Wooley, lead commissioner on race for the EHRC, said: "It has been encouraging that some forces, such as the Metropolitan Police, have recognised the need to end disproportionate stop and search.
"Evidence-led policing is much more effective, and avoids alienating the very people who should be helping the police to catch criminals."
'Critical powers'
Data supplied by 24 out of the 40 forces in England indicated that ethnic minority people made up 64% of all those stopped in 2010-2011 under Section 60, up from 51% two years earlier. However, the overall number of searches fell in the period.
British Transport Police officers were found to be 31 times more likely to search black people than white people in 2010-2011. Black people were 28 times as likely to be stopped by West Midlands Police and 21 times as likely by the Greater Manchester force.
Asian people were eight times more likely to be searched than white people in the West Midlands, and twice as likely under Greater Manchester Police last year.
The EHRC said the Met and Merseyside forces carried out more than 90% of all Section 60 stop and searches over the three years.
Black people were 3.3 times as likely to be stopped as white people on Merseyside in the 2010-11 period but Asian people only marginally more. Black people were 11 times as likely and Asian 4.5 times as likely as white people to be stopped in the London area last year, the EHRC said.
The EHRC figures showed stop and searches under Section 60 led to 4,230 arrests in England in 2008-09 but only 527 of these were for offensive weapons. Last year there were 1,364 arrests, of which 220 were for weapons.
The EHRC acknowledged that some Section 60 stops were directed at criminal activity involving ethnic minorities. However, it said police officers could be exposed to discrimination claims unless there was greater transparency about such operations.
Deputy Commissioner Craig Mackey, the Association of Chief Police Officer's lead for stop and search, said the EHRC report was a "welcome step in further understanding the impact that stop and search can have within our communities".
He added: "Chief officers support the use of stop and search as these powers are critical in our efforts to tackle knife, gun and gang crimes.
"It is important that there is a debate about the effectiveness of these police tactics as we seek to balance the impact of powers, like section 60, on our communities with the need to protect communities from serious crime."