Diamond Jubilee: Edward and Sophie to visit Gibraltar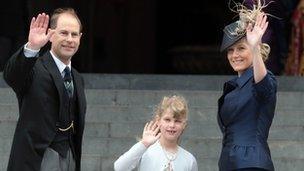 The Earl and Countess of Wessex will arrive in Gibraltar later, as part of the British territory's celebrations of the Queen's Diamond Jubilee.
Prince Edward and wife Sophie will carry out a range of official duties.
The three-day visit comes amid recent tensions between the UK and Spain over fishing rights, which have seen Gibraltar police boats ordering Spanish trawlers away from the Rock's waters.
Spain's Queen Sofia cancelled a trip to the UK last month over the dispute.
Spain ceded Gibraltar to Britain in 1713 under a treaty but continues to claim sovereignty over it. The Rock lies close to Spain's southern tip and Madrid wants it back.
Ongoing diplomatic talks have been frequently accompanied by disputes over border controls.
Queen Sofia had been due to visit the UK in May to mark Queen Elizabeth's Diamond Jubilee.
A Spanish government statement said it was "hardly appropriate" for her to attend a lunch as part of the celebrations to mark the 60th anniversary of the British monarch's reign.
In 1981, the Spanish royal couple declined an invitation to the wedding of Prince Charles and the Princess of Wales because they planned to visit Gibraltar as part of their honeymoon.
And a visit by Princess Anne to Gibraltar in 2009 sparked an official complaint from the Spanish government.
The governor of the territory has conceded that the current political situation will probably prevent the Queen visiting in the near future.