David Cameron and George Osborne to appear at Leveson Inquiry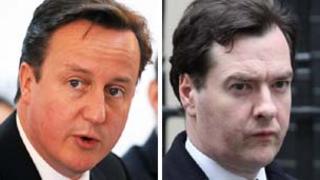 David Cameron, Nick Clegg, George Osborne and Gordon Brown will appear before the Leveson Inquiry next week, it has been announced.
The inquiry into press ethics is currently examining the relationship between politicians and the media.
The prime minister will be the sole witness on Thursday, the inquiry's witness list shows.
Mr Osborne and Mr Brown will give evidence on Monday, with Mr Clegg appearing on Wednesday.
Labour leader Ed Miliband, former Prime Minister Sir John Major and Deputy Labour leader Harriet Harman will give evidence to the inquiry at London's Royal Courts of Justice on Tuesday.
Scotland's First Minister Alex Salmond will also give evidence on Wednesday.
The prime minister has backed Culture Secretary Jeremy Hunt amid calls for him to resign over his department's relationship with News Corp during its bid to take full control of BSkyB.
At the last hearing before a week's adjournment on 31 May, Mr Hunt faced six hours of questions on his handling of the bid.
'Acted properly'
He accepted that friendly messages he exchanged with News Corp's James Murdoch while he was responsible for deciding on the BSkyB issue were, with hindsight, inappropriate.
But following his evidence, Mr Cameron decided not to order an investigation into whether the culture secretary had breached the ministerial code of conduct.
The PM said Mr Hunt had acted "properly" throughout the period when he was responsible for the bid.
The prime minister is also likely to be questioned over his relationship with former News International executive Rebekah Brooks, who has been arrested over the phone-hacking scandal and charged with conspiracy to pervert the course of justice.
His decision to hire former News of the World editor Andy Coulson as his former communications chief is also likely to come under question. Mr Coulson has also been arrested over alleged phone hacking and has been charged with perjury in a case connected to the scandal.
Mr Osborne was originally due to only give written evidence. He is likely to be asked about his communications with Mr Hunt on the day the culture secretary was handed responsibility for the BSkyB bid.
Mr Hunt had sent a text to Chancellor George Osborne expressing fears the government would "screw up" over its handling of the BSkyB bid after Business Secretary Vince Cable was recorded saying he had "declared war" on Rupert Murdoch.
Mr Osborne texted to Mr Hunt: "I hope you like the solution," shortly before he was given responsibility for dealing with the bid.
Single currency
On Monday, Gordon Brown is likely to be questioned about his relationship with Rupert Murdoch after the News Corp boss told the inquiry in April that the former prime minister phoned him to say he had declared war on his media empire.
Mr Murdoch said Mr Brown rang him in an "unbalanced" state of mind after the Sun newspaper switched support from Labour to the Conservatives in 2009.
The former prime minister issued a statement after Mr Murdoch's evidence denying he made such a threat.
The tabloid paper's 2006 story about Mr Brown's son Fraser having cystic fibrosis may also be discussed.
Rebekah Brooks has denied the story was obtained through hacking into medical records.
Mr Brown's friendship with Daily Mail editor Paul Dacre could also come under scrutiny after Lord Mandelson told the inquiry it may have affected the former PM's stance on Europe and the single currency.
The Leveson Inquiry was launched by Mr Cameron in July to examine British press ethics in reaction to the phone-hacking scandal at the News of the World, which led to the paper's closure.