British or English – a false choice?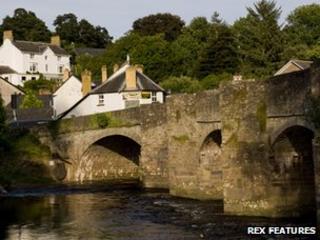 On my way to the Hay Festival last weekend, I drove through the charming Welsh town of Crickhowell. My son, sitting in the back, asked why it was that the streets were bedecked with Welsh flags alongside the bunting and Union flags celebrating the Diamond Jubilee.
My answer was that the people of Crickhowell were proud to be Welsh and proud to be British at the same time. Wales is part of the United Kingdom and, I explained, there was no contradiction in flying both flags. The royal heir to that broader kingdom, I pointed out, is designated the Prince of Wales.
The story is a bit more complicated than that, of course. I might have mentioned that another man designated Prince of Wales, Owain Glyndwr, had largely destroyed Crickhowell Castle in the early 15th Century - the ruins of which still stand in the town, a relic of what has been called the Last War of Independence.
The border town has witnessed more than its fair share of bloodshed and battle between Welsh separatists and the English crown over the centuries, and the proud display of British and Welsh colours this weekend might be seen as an echo of an historical and political compromise.
I am reminded of my son's question by today's speech from the Labour leader Ed Miliband. He refers to the "false choice" between the union and its constituent parts. "Having to say, Scottish or British, Welsh or British, English or British. I don't accept any of that," he said.
As a boy, like many others, I remember writing my address like this:
Mark Easton
24 Ledcameroch Road
Bearsden
Glasgow
Scotland
United Kingdom
Europe
The World
The Universe
My identity was summed up by simple concentric circles, each aspect of my background fitting neatly into another. I was as much a resident of my house as I was a citizen of the world.
History, though, is littered with examples of what happens when the peaceful ripples of my uncomplicated Venn diagram are disturbed by the winds of some identity crisis. What might happen if the line of my address reading United Kingdom was removed?
Ed Miliband appears today to be responding to the warnings raised by the left-leaning think-tank IPPR last January in a paper entitled: The dog that finally barked: England as an emerging political community.
The report argued that, with a referendum on Scottish independence looming, Labour was caught "between the Scylla of the failure of its English regionalist project and the Charybdis of its dependency on its block of Scottish and Welsh MPs". The party, IPPR claimed, was in denial about the English question.
Polling data produced by YouGov found that 63% of people in England now describe themselves as English rather than British (see my post Is brand Britain losing its lustre?) and suggested that there was widespread and growing resentment at the perceived advantages enjoyed by other parts of the UK.
But Mr Miliband must tread warily if he wishes simultaneously to appeal to aggrieved English voters and counter those who would wish to break up the United Kingdom. His chosen path is to support the celebration of English pride and English character but not an English parliament or greater English autonomy.
In other words, his offer is for conceptual rather than physical Englishness.
While I was in Hay last weekend, I bumped into Rhodri Morgan - Labour's First Minister of Wales from 2000-2009 and a committed support of Welsh devolution.
I asked him whether he thought the people of the principality wanted still greater separation from the UK government in Westminster, following their yes vote in the referendum on extending the powers of the National Assembly last year. He was convinced they did, but that project was on hold at the moment as everyone held their breath to see what would happen in Scotland.
Wales, if Mr Morgan is correct, wants more political autonomy while retaining the accommodation represented by those flags in Crickhowell: a form of governance which is physical as well as conceptual.
The question for Mr Miliband is whether Labour's proposals for England can credibly only relate to the latter.