Dr Williams pays tribute to the Queen at thanksgiving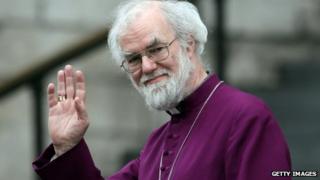 The Archbishop of Canterbury has hailed the Queen's lifelong commitment to the country and Commonwealth at a service to give thanks for her Diamond Jubilee.
Dr Rowan Williams paid tribute to the Queen's dedication of herself to others in his sermon at St Paul's Cathedral.
He recalled the "simple statement of commitment" she made as a young woman following her father's sudden death.
He also had words of support for the Duke of Edinburgh, who was admitted to hospital on Sunday.
The Archbishop said: "What we remember is the simple statement of commitment made by a very young woman, away from home, suddenly and devastatingly bereaved, a statement that she would be there for those she governed, that she was dedicating herself to them."
Available to God
"Those of us who belong to the same generation as Her Majesty's older children will recall a sixties song about a 'dedicated follower of fashion' - as though to be 'dedicated' just meant to be very enthusiastic," he went on.
"But in the deep background of the word is the way it is used in classical and biblical language: in this context, to be 'dedicated' is to be absolutely removed from other uses, being completely available to God."
The Archbishop said that the Queen's dedication to both the national and international community meant she had "no goals that are not the goals of this community... no well-being, no happiness, that is not the well-being of the community." What made her happy was "what makes for the good of this particular part of the human family."
He highlighted how the Queen's commitment to others had brought her happiness and has "endured faithfully, calmly and generously through most of the adult lives of most of us here".
"We are marking six decades of living proof that public service is possible and that it is a place where happiness can be found."
He said the Queen "has made her 'public' happy and all the signs are that she is herself happy, fulfilled and at home in these encounters.
"The same, of course, can manifestly be said of Prince Philip; and our prayers and thoughts are very much with him this morning."