Sir Paul to end London 2012 opening ceremony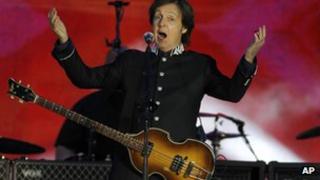 Sir Paul McCartney has confirmed he will end the opening ceremony of the London Olympic Games on July 27.
Speaking on BBC Radio 5 live he said "I've been booked," and added that he would be "closing the opening".
A total cast of 15,000 will take part in the Olympic and Paralympic opening and closing ceremonies, to be watched by an estimated four billion people worldwide.
The full line-up of the opening ceremony is yet to be announced.
A performance by the former Beatle has long been rumoured, and in January he disclosed he was in talks about taking part.
Sir Paul wrapped up the proceedings of Monday's star studded concert to mark the Queen's Diamond Jubilee , with a bass guitar specially made for the occasion.
The opening ceremony is intended as a celebration showcasing the best of the host nation.
The Beatles were declared the biggest-selling singles act since charts began 60 years ago in a new Radio 2 countdown this week.
Sir Paul told the BBC Radio 5 live Drive that "on certain occasions" he still gets nerves before performing.