Diamond Jubilee: Crowds picnic at palace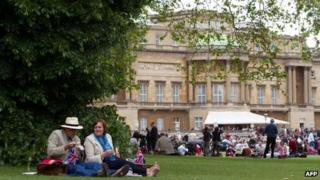 Ticket-holders for a star-studded Diamond Jubilee concert for the Queen have enjoyed specially-created picnics in the gardens of Buckingham Palace.
Acts including Sir Paul McCartney will play at the concert which will be watched by 12,000 people.
Meanwhile, the Duke of Edinburgh has been taken to hospital with a bladder infection, Buckingham Palace said.
The show is due to end with the Queen lighting one of 4,500 beacons across the world marking her 60-year reign.
Beacons in Commonwealth countries including Tonga and New Zealand have already been lit.
Australia's Prime Minister Julia Gillard lit her country's beacon at Parliament House in Canberra.
The beacons are being lit at 22:00 local time in the Commonwealth and British overseas territories - those in the UK, Channel Islands and Isle of Man will be set alight between 22:00 and 22:30 BST.
Ticket-holders entered the palace gardens - where teams of helpers handed out picnic hampers created by celebrity chef Heston Blumenthal and royal chef Mark Flanagan - to the accompaniment of a steel band.
Kelly Downey, 21, at the palace with her sister Shannon, 17, from Northern Ireland, said: "It's amazing - it's class.
"We have chilled country garden soup, Scottish smoked salmon, all kinds of bread, jubilee chicken, cheese, chutney and three cakes.
"The only thing is I don't drink champagne."
Despite some rain on an overcast day, picnickers enjoyed the feast on blankets to the sounds of a string quartet playing classical music.
There was confusion earlier as picnic-goers tried to enter palace grounds at Constitution Hill.
"The guards thought we needed the fancy card inviting you to the palace - but it wasn't needed after all," said Donna Hughes, 30, from mid-Wales.
"We only need ID and our tickets. Now we are through the barriers but we all have to join another queue - it's a bit ridiculous."
Some 10,000 winners of a public ballot and 2,000 VIPs are at the palace for the picnic and concert, which is due to begin at 19:30 BST (18:30 GMT).
The event, which will be broadcast by the BBC, also includes Robbie Williams, Ed Sheeran, JLS, Kylie Minogue, Sir Tom Jones, Jessie J, Annie Lennox and Madness.
Joe Butler, 25, who has travelled down from Sheffield, told the BBC News website he was looking forward to seeing artists from different generations.
"Like my granddad said to me before I left - 'say hello to Shirley Bassey'.
"And you know what, it's really nice to be proud to be British for once - you see lots of Americans with flags but not usually us."
Those without tickets have gathered on The Mall nearby where, despite room becoming tight, the atmosphere remained persistently polite and good-natured.
Paul Spencer, 42, an electrician from Shropshire, said he wanted his two sons, Daniel, five, and Jamie, three to know their country's history.
"They probably won't see this again in their lifetime," he added.
Flagsellers on The Mall, meanwhile, have complained of disappointing sales.
"We definitely haven't sold as many as the last royal celebration - probably because all the papers are giving them away. We can only try."
Monday's celebrations follow Sunday's spectacular River Thames pageant which attracted hundreds of thousands of rain-soaked people to watch the flotilla of 1,000 vessels as street parties took place across the country.
Met Police Commissioner Bernard Hogan-Howe said there had been "absolutely no problems".
"It seems to have gone really well - we had one-and-a half-million people out yesterday and made just 10 arrests so that is not bad," he added.
Thousands of people are expected in central London later to watch the concert on the big screens, which are also located in St James's Park, Hyde Park and Trafalgar Square.
The Prince of Wales, Duke and Duchess of Cambridge and Prince Harry will join the Queen at the concert.
It will feature a song - sung by 200 people from around the Commonwealth - co-written for the occasion by Gary Barlow and Lord Lloyd Webber.
At the Golden Jubilee concert in 2002 Queen guitarist Brian May played the National Anthem on the roof of Buckingham Palace - this year pop veterans Madness will perform Our House atop the palace.
After the musical tribute, the Queen will greet the crowds and she is scheduled to place a crystal glass diamond into a special pod, triggering the lighting of one of the last beacon in The Mall.
Beacons have also been placed on the battlements of the Tower of London, and at St James's Palace, Lambeth Palace, Windsor Castle, Sandringham, Balmoral and Holyrood House and on Hadrian's Wall.
And the highest peaks of the UK's four nations - Ben Nevis, Snowdon, Scafell Pike and Slieve Donard - will be lit up by teams from four charities.
The hotel in Kenya where the Queen was told in 1952 of her father George VI's death will also light a beacon.
The evening will end with a firework display.
See all the latest Diamond Jubilee news and features at bbc.co.uk/diamondjubilee