London 2012: Students unveil podiums for medal moments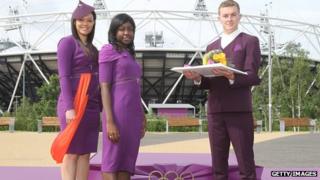 Students are taking to the podium for London 2012, but not to collecting medals: to design the sets.
A group from London's Royal College of Art (RCA) has designed the stages on which this summer's Olympians will collect their prizes.
They have also designed presentation party costumes, in royal purple colours, for the Games.
In all, there will be 805 victory ceremonies in 30 venues, attended by around 4,400 competitors.
"'It's fantastic that Royal College of Art students have had so much involvement with the London 2012 Games," said Professor Wendy Dagworthy, head of fashion programmes at the RCA.
"This really is a once-in-a-lifetime opportunity for these highly talented young designers, and a great way to showcase British design education to a global audience."
The RCA students have spent the last eight months working on their designs, which will be worn by just a handful of volunteer Games Makers .
Athlete and presenter escorts, as well as flower and medal bearers, will be given the uniforms which were designed by students Thomas Crisp and Trine Hav Christensen.
"The victory ceremonies mark the moment athletes can celebrate and share their achievements with fans in the stadiums and a worldwide TV audience," said London 2012 Chairman Seb Coe.
"I'm delighted that we have worked, not only with established British designers but also with the next generation of designers to create this special moment for them."
British florist Jane Packer has designed the 4,400 floral bouquets which will also be presented to athletes.
The bouquets, grown in Britain, incorporate different varieties of rose, along with traditional herbs.
Mint, rosemary, English lavender and wheat have been used, which Games organisers say will produce an "unusually eclectic fragrant mix".
During the victory ceremonies, athletes' names will be called out and the medals and flowers will be given to them by an official.
The flags of the athletes' countries will then be raised as the national anthem of the gold medallist's nation is played.