Woodland Trust reveals 60 Diamond Jubilee Wood sites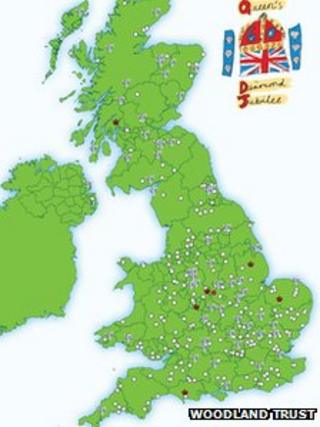 Locations for 60 new woods created to mark the Queen's Diamond Jubilee have been revealed by the Woodland Trust.
Landowners across the UK have planted millions of trees to form the Diamond Woods - each at least 60 acres in size, the equivalent to 30 football pitches.
A flagship 460-acre wood is being created in Leicestershire, while others are to be situated in the Outer Hebrides, Cornwall and Buckinghamshire.
The National Trust, race courses, local councils and colleges provided land.
The Woodland Trust said more than 250 smaller Jubilee Woods were also being grown as part of a plan to plant six million trees in 2012.
The Leicestershire wood - to be planted within the National Forest estate - will cover an area bigger than London's Regent's Park.
The Woodland Trust said the new forest would create a habitat for wildlife ranging from otters to yellowhammers.
'Love for trees'
The Diamond Woods - made up of native trees - will be planted in every region of the UK, in locations including:
Carrickfergus in County Antrim
The Queen's own Balmoral Estate
Stornoway in the Outer Hebrides
Truro in Cornwall
Rowde in Wiltshire - on British Waterways land
The National Trust's Waddesdon Manor in Buckinghamshire
Ffos Las Race Course in Carmathenshire
University land in Nottingham, Warwick and York
Dundreggan estate, near Loch Ness - where the charity Trees for Life is working to restore native Caledonian woodland in the Scottish Highlands
So many organisations came forward to help with the plan that the Woodland Trust now hopes to create another 25 Princess Woods to mark the years before the Queen's accession.
Georgina McLeod, Jubilee Woods director at the Woodland Trust, said: "We're absolutely delighted that so many different organisations and landowners have joined with the Trust to create these 60 very special Diamond Woods.
"They will help make a massive difference to the environment and pay a special tribute to Her Majesty the Queen.
"By the end of the project millions of people will have planted trees, a testament to the nation's love for trees and our second longest reigning monarch."