Timeline: The day Jeremy Hunt got BSkyB bid job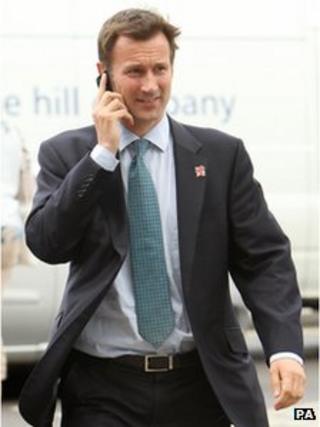 A series of text messages and emails sent by Culture Secretary Jeremy Hunt shortly after Business Secretary Vince Cable had "declared war" on Rupert Murdoch, have been seen by the Leveson Inquiry.
The correspondence took place on 21 December 2010, the day Mr Cable's comments to undercover reporters were made public.
It appears Mr Hunt swapped messages with News Corporation and BSkyB chairman James Murdoch, Chancellor George Osborne and the Prime Minister's former director of communications, Andy Coulson.
By 17:45 GMT, Mr Cable had been stripped of his duties overseeing News Corp's planned takeover of BSkyB, and Mr Hunt had been given responsibility for the decision.
This is how the day developed.
12:00 GMT: The European Commission in Brussels approves News Corp's bid to buy the 61% of BSkyB that it does not already own.
"I am confident that this merger will not weaken competition in the United Kingdom," the EU competition commissioner Joaquín Almunia said.
12:46 GMT: Jeremy Hunt texts James Murdoch: "Sorry to miss your call. Am on my mobile now."
12:52 GMT: Mr Murdoch texts Mr Hunt: "Have to run into next thing. Are you free anything after 14:15 GMT? I can shuffle after this."
The pair arrange to talk at 16:00 GMT.
12:57 GMT: Mr Hunt texts Mr Murdoch: "Great and congrats on Brussels. Just Ofcom to go."
14:30 GMT: BBC business correspondent Robert Peston publishes the full transcript of the secretly recorded conversation by undercover reporters with Vince Cable. It includes information the Daily Telegraph had decided not to publish.
In the interview Mr Cable said: "His [Rupert Murdoch's] whole empire is now under attack."
15:56 GMT: News Corporation issues a statement saying the group are "shocked and dismayed" by reports of Mr Cable's comments.
It adds: "They [the comments] raise serious questions about fairness and due process."
16:00 GMT: Mr Hunt and Mr Murdoch talk briefly on the telephone regarding Mr Cable's comments.
16:08 GMT: Mr Hunt texts Mr Osborne: "Could we chat about Murdoch Sky bid? I am seriously worried we are going to screw this up."
16:08 GMT: Mr Hunt text to Mr Osborne: "Just been called by James [Murdoch]. His lawyers are meeting now and saying it calls into question legitimacy of whole process from beginning. 'Acute bias', etc."
16:10 GMT: Mr Hunt email to Mr Coulson: "Could we chat about this? I am seriously worried Vince Cable will do real damage to coalition with his comments."
16.58 GMT: Mr Osborne text to Mr Hunt: "I hope you like the solution."
17:45 GMT: Business secretary Vince Cable stripped of BSkyB bid responsibility, and anything to do with media policy, but keeps cabinet post. Jeremy Hunt announced as his successor.