Royal Household staff list released online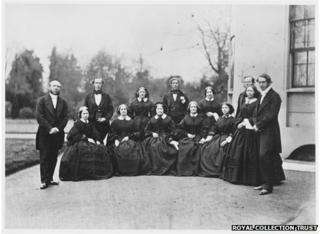 Records showing the staff who served Britain's kings and queens are being made available online to celebrate the Queen's Diamond Jubilee.
They include 50,000 records from the reign of King Charles II to King George V between 1660 and 1924.
The Royal Household lists are being made available by findmypast.co.uk, which carries some charges, in association with the Royal Archives.
The records also provide a rare glimpse of the royal court and household.
A reigning monarch typically had 1,000 staff in the Royal Household. The biggest department was Lord Chamberlain's department, which had 700 staff on average and was responsible for ceremonial and social life.
Traditionally, employees in this department included above-stairs servants such as pages, craftsmen, chaplains, physicians, musicians, watermen and yeomen of the guard.
The records also reveal more unusual occupations among the Royal Household staff, such as chocolate-maker to the Queen; yeoman of the mouth to Her Majesty Queen Mary in the pantry; necessary woman to the corridor and entrance hall; and keeper of the lions in the tower.
Other unusual titles include moletaker; master of the game of cock fighting; strewer of herbs and laundress of the body linen.
The records show details of staff such as name, occupation, age, length of service and salary and cover royal residences across the UK including Buckingham Palace, Windsor Castle and St James's Palace.
Professor Robert Bucholz, professor of history at Loyola University of Chicago, said: "The court at Whitehall, St James's and Buckingham Palace was not just the seat of the most powerful government in the world, it was the political, social and cultural centre of the nation."
The expert on officials of the Royal Household added: "Professional historians have long had access to these records, but now ordinary citizens from around the world have the opportunity to track down ancestors here.
"Even I, an American of German and Mexican descent, found a namesake: one George Buckholtz, livery pony boy, undoubtedly part of the German contingent serving at the later Hanoverian court."