Gibraltarian and Spanish police clash over fishing row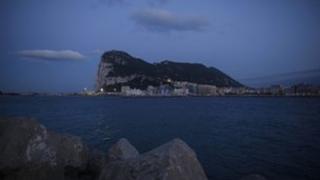 Gibraltarian police have confronted Spanish officers escorting Spanish fishing boats in the waters near Gibraltar for the second night running.
Gibraltar's government has said fishing with large nets in the area is illegal because of an environmental law.
But Spain claims sovereignty over the UK colony and its foreign ministry has said it supports the right of Spanish boats to fish in its waters.
The Spanish and UK foreign secretaries are due to meet in London on Tuesday.
Spain's foreign ministry has said the fishing dispute will not affect its "excellent" relations with Britain, which has counted Gibraltar as a colony since 1713.
Responding to the latest incident, a spokesman for the foreign ministry said it had been resolved without serious consequences.
"Spain hopes that these incidents will not repeat themselves and that the question of legitimate fishing rights can be resolved through collaboration and negotiation."
'Defending rights'
Reports suggest that several Royal Gibraltar Police boats surrounded three Spanish fishing vessels after they cast their nets near Gibraltar harbour the night before.
Gibraltarian news agency GBC News said several Spanish Guardia Civil boats appeared to be defending the fishermen, but were told to leave by the Gibraltarian police.
The Spanish boats reportedly left the area later after a Royal Navy vessel arrived and told them again to depart.
Gibraltar government press officer Clive Golt told the BBC: "We have maritime protection laws in British territorial waters which the Spanish have never accepted. We are not going to allow the laws to be broken."
Mr Golt added that that Gibraltar has only 7km (4.4 miles) of coastline, compared with Spain's 8,000km.
GBC news quoted Gibraltar's chief minister, Fabian Picardo, as condemning what were "obviously carefully premeditated challenges to our indisputable sovereignty, jurisdiction and control of British Gibraltar Territorial Waters and our airspace".
A UK Foreign Office statement confirmed that Britain's minister for Europe, David Lidington, discussed various issues - including the fishing dispute and recent incidents in British Gibraltar Territorial Waters - with Mr Picardo.
It said Mr Lidington had reiterated that the UK would "never enter into arrangements under which the people of Gibraltar would pass under the sovereignty of another state against their wishes".