Variations in child care applications revealed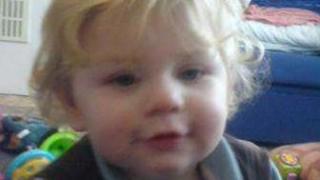 How much the numbers of applications to take children into care vary from region to region in England has been revealed for the first time.
South Tyneside made the highest total of any local council in 2011/12 with 30.1 per 10,000 children (91 cases), while the Isles of Scilly made none.
The figures were released by the courts advisory service, Cafcass .
Total applications have risen 62% to 10,218 from 2007/8 to 2011/12 following the Baby P abuse case in London.
The case prompted widespread criticism of Haringey children's services department, in north London, and health professionals for not detecting the abuse Peter Connelly was suffering, despite several opportunities.
Peter, or Baby P as he was known before he was named, died aged 17 months in August 2007 after suffering more than 50 injuries.
There was a sharp leap in care applications after the conclusion of the trial of Peter's abusers at the end of 2008, and numbers have continued to rise.
'More timely'
The latest figures from Cafcass - the Children and Family Court Advisory and Support Service - reveal the number of applications made by local authorities in England to courts seeking to remove a child from their family because of a perceived risk of significant harm.
They show an average of 9.2 care applications per 10,000 children across England in 2011/12 - up from 5.8 per 10,000 in 2007/8.
Rutland had one of the lowest rates at 2.2 applications per 10,000 children (two cases), followed by 3.3 (12) in West Berkshire, and 4.1 in Wiltshire (42), Windsor and Maidenhead (14) and Wokingham (15).
In London, Haringey had one of the highest rates at 17.1 (84 cases), compared with Richmond-upon-Thames, which at 2.4 (10) was the lowest.
After South Tyneside, the second and third highest number of care applications respectively came from Middlesbrough with 25.4 per 10,000 children (80 cases) and Redcar & Cleveland with 22.2 (63 cases).
Meanwhile, a separate study by Cafcass, suggests that in 85% of cases, guardians believed court applications were the only viable action to keep children safe.
'Encouraging signs'
It also found that compared with 2009, local authorities were making applications at an earlier stage of their involvement with children.
Speaking to the BBC, Cafcass chief executive Anthony Douglas said the Baby P case had led to a "sea change in practice" and had "fundamentally changed" the way children were assessed.
He said: "Following on from the Baby Peter tragedy, there was an upsurge in care applications which is still being sustained four years on.
"For vulnerable children today, this defining study gives encouraging signs that court applications to protect them are now more timely and being made at an earlier stage of a local authority's involvement with their family."
But he said further investigation was needed, adding: "These figures can't be looked at in their own right, they have to be scrutinised along with other data and some assessment on the ground of what's been going on locally."
Professor Eileen Munro, who reviewed child protection for the government, said that the data was "fascinating" and important but impossible to interpret without more investigation.
She said high rates of care applications could be a sign of very good practice, or very bad.