Reoffending rates reach record level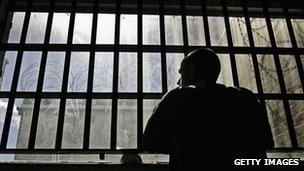 A record number of offenders sentenced for serious crimes had committed previous offences, according to figures for 2011.
Some 90% of those sentenced in England and Wales had offended before - and almost a third had committed or were linked to 15 or more crimes.
Reoffending rates were highest among serious offenders who had been jailed.
Ministry of Justice officials say the figures show a "clear trend" of a rising re-offending rate.
The figures show that almost 46% of adults jailed last year had at least 15 previous convictions or cautions - some 38,000 offenders overall. In 2001, fewer than 30% of those sent to jail had the same number of previous convictions.
Taking all offenders together, not just those who were jailed, the figures show that a third had 15 or more previous convictions - approximately 102,000 people.
Separate figures show that one in eight offenders who pleaded guilty on or after the first day of a trial received the maximum sentence discount possible, of a third or more.
During 2011, the criminal justice system dealt with two million offenders - down by more than 100,000 on the previous year.
Some 208,000 of those were "first-time entrants" to the criminal justice system, a 10% fall on the previous year - and down almost 40% since 2006. Approximately 1.3m of all the offenders received a conviction at court.
The average jail sentence given in 2011 was 14.7 months - one month more than the previous year. Statisticians say that the rise has been driven by change in the mix of cases and a general trend towards longer sentences.
The figures also show a continued fall in the number of on-the-spot fines handed out by police for minor crimes. Some 127,000 fixed penalties of £50 or £80 were handed down in 2011, down 9% on the year before - and almost 40% lower than a peak in 2007.
Four offences accounted for almost all the on-the-spot fines handed out. Police handed out just over a quarter of the fines for shoplifting or being drunk and disorderly. A fifth of the fines related to behaviour which alarmed others. Almost 13% were for possessing cannabis.