Diamond Jubilee v Republican Britain
By Holly Wallis
BBC News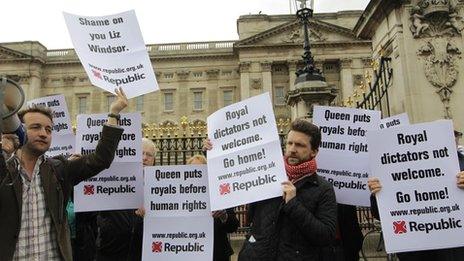 As much of the UK gears up to celebrate the Queen's Diamond Jubilee, not everyone is happy. Republicans are stepping up their protest over the weekend - but who are they, and what exactly do they want?
A group of volunteers is spending a long evening organising campaign material - stapling big white placards to wooden poles.
The signs read: "Power to the People" and "Citizen Not Subject" in large black lettering.
One placard asks: "9,560 Nurses or 1 Queen?" The answer, for members of Republic, is a no-brainer.
They are preparing for 3 June, when the country will be celebrating Queen Elizabeth II's Diamond Jubilee - marking her 60 years on the throne, and the first in the UK since Queen Victoria's in 1897.
Thousands of onlookers are expected to flock to the Thames to catch a glimpse of their monarch forming the floating centrepiece of her own Jubilee River Pageant, a grand spectacle boasting seven-and-a-half miles of regal flotilla - just one of the main events in an extravagant four-day bank holiday weekend.
One might be forgiven for believing that Britain was barmy for royalty.
But just along from London's Tower Bridge on the south side of the river, Republic's protest, what they describe as "the biggest and boldest in modern times", will be floating a different idea. And this will be no riverside gala.
"We're there to make a point," says Emily Robinson, 31, an academic from Hull who joined Republic in 2006.
"For too long we've had a reputation for being a bit polite, but we also want to be firm and serious."
After years as a low-key movement, Republic re-launched itself in 2006 as an official pressure group.
In 2010 it had 9,000 members, but since the royal wedding announcement that year, they say registered supporters have increased to 21,000.
"We're really getting our message out, considering our size," adds New Zealander Paula Feehan, an aid worker who settled in Britain 16 years ago.
"We have one-and-a-half paid employees so we're definitely punching above our weight."
Republic wants to stir up some lively political debate.
The mission is simple, says chief executive Graham Smith. "We want to get rid of the monarchy and have a republican constitution with an elected head of state."
Republicans want a referendum because, for them, the monarchy is undemocratic.
"It's not chosen by the people, doesn't represent the people, and as an institution it isn't fit for purpose," says Mr Smith.
Just look at the "enormously wasteful" Jubilee, he points out.
So who are the people behind the politics?
"Republic has changed over the last few years", says James Gray, a 31-year-old writer from Essex.
"It's younger, more evenly split between genders, and more diverse in terms of professions. We're ordinary people."
So no Sex Pistols or punk-era vitriol then?
"Punk anti-royalism wasn't really founded on principle", says James.
"Our methods aren't controversial, but we're not afraid of getting into scraps. Not literally."
Mr Smith believes Republic's first hurdle is public opinion, because political opinion will follow.
But Mr Smith dismisses the accuracy of that. "It's clearly a blip because every other poll before and after shows about 20-25%."
Mori has previously reported those favouring a republic averaged just under 20%, a slightly lower figure, but one that has remained consistent for 18 years between 1993-2011.
Another poll this week by ICM for the Guardian suggests 22% of people believe the country would be better off without a monarchy, with 69% saying it would be worse off.
Even after the death of Diana, Princess of Wales, in 1997, support for republicanism remained steady.
"That stability", says Mr Smith, "shows that the issue hasn't been sufficiently engaged with in the past."
And Republic's chief executive believes opinion is shifting: "The other 75% of the population aren't all monarchists", he says.
Many are stuck in "default position" and "don't know how to change it".
But does even half-baked tolerance mean Britain is ready for revolution?
Royal commentator and Stirling University's professor of communications, Neil Blain, says criticism of the British monarchy is mainly found on social media.
"Grumbling seldom finds a public voice," he says.
"Republic is pretty much the only force for debate about the monarchy in Britain. And for this reason it's actually rather important."
Its impact is another matter.
"Republic is building political alliances, which it needs," adds Professor Blain. "Without this there's a danger it could look, not like a lost cause, but a becalmed cause.
"Historically, there are periods when the monarchy was quite unpopular. Even in the 90s, broadsheets seriously discussed its future.
"We've settled into a period of acceptance. People like spectacle and tradition; it's hard to upstage a royal wedding with micro-blogging.
"The major challenge facing Republic is how do you market republicanism? But they're tackling this in an organised, strategic way, so I'd absolutely not write them off."
Republic's real frustration is, as they see it, unbalanced, unfettered royal press coverage. They complain in particular about the balance of BBC reporting.
By Ipsos Mori's previous reckonings, there could be as many as 10 million people in the UK who sympathise with Republic's view.
"You just wouldn't know that from the print media," says the group's director and "full-time republican" Andrew Child.
But not all anti-royalists share their position, among them author and former Labour minister Roy Hattersley.
"I'm a staunch republican, but I think many of the ways that Republic promotes the position are silly.
"They complain the media spends too much time reporting on Jubilee celebrations, but what else are they supposed to do?
"There's a very substantial case for a republic, but unfortunately the organisation Republic trivialises it."
But Mr Child believes in Republic's approach.
"There's still a fear in Britain of openly criticising the Queen. We need to be trailblazers. If we get a proportionate slice of royal coverage, our numbers will go absolutely gangbusters."
Back to the volunteers - in an office that cannot be named "because it's not relevant".
How can "firm, serious" Republic fire debate if most people are fine, even happy, with the status quo?
"It's about asking questions, getting people thinking, working from a premise of fairness and equality," says Paula Feehan. "And showing how a republic would affect a normal person in the street."
"Republic isn't radical or scary. We're not counter-culture. We are culture."
Republic is ready for the Jubilee. The challenge for them is convincing the UK to listen.
Related Internet Links
The BBC is not responsible for the content of external sites.