London 2012: Ticket design features sporting pictograms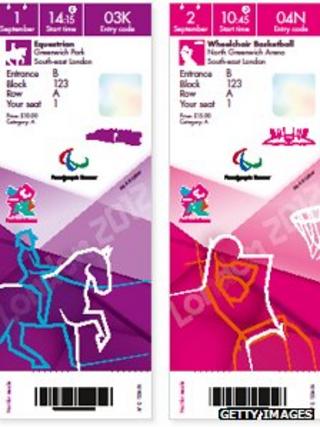 Pictograms of sporting events - including cycling, swimming and equestrianism - feature on the design of the London 2012 Olympic tickets.
Tickets, which are being sent out in the next few weeks, are colour coded according to the venue where the event is being staged, to help spectators.
In a bid to reduce counterfeiting, a hologram, barcode and the name of the booker will be printed on the ticket.
Delivery of Olympic tickets, travel cards and guides will begin this week.
Olympic organisers Locog commissioned branding specialist company Futurebrand to help design the tickets.
Every ticket will have the purchaser's named displayed, with the idea that tickets can be easily traced.
Paul Deighton, chief executive of Locog, urged spectators to keep their tickets in a safe place.
"With the Olympic Flame now making its journey towards the Olympic Stadium and with less than 100 days to go before the Paralympics, I cannot remember a more exciting week on the road to London 2012," he said.
But he issued a warning to sports fans without tickets not to be tempted to buy from unofficial websites or touts.
"In many cases, they [the websites] simply do not have tickets to sell and there is a real danger people will end up being out of pocket and missing out on seeing the Games."
With tickets for the Paralympics still on sale, Mr Deighton urged potential spectators to check the Locog website to be certain tickets were bought from an authorised source.
Det Supt Nick Downing from the Metropolitan Police urged people to check their tickets for the in-built security features.
"Genuine tickets will have a number of security features built into them to minimise the risk of counterfeits," he said.
"The safest way to ensure that your ticket is genuine is to only buy from an authorised seller which can be found on the London 2012 website.
"If you buy from an unofficial site, you risk paying over the odds for a ticket that may not exist, may not be genuine and you risk not getting to see the Games."