Olympic relay torches put up for auction by bearers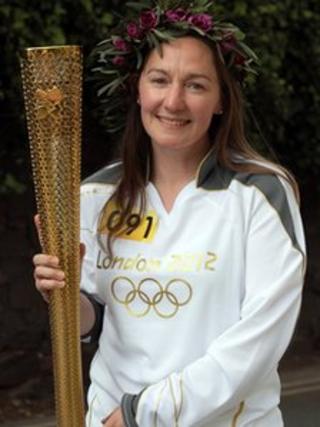 Dozens of Olympic torches are for sale online as torchbearers are prepared to part with their prized relay memento.
Some are hoping to make money for their chosen charity with prices ranging from several hundred pounds to £100,000.
As the flame travelled from Exeter to Taunton, a torch selling for the Invictus Trust charity fetched £150,400 after 226 bids.
Sarah Milner Simonds, who is carrying the flame through Dunster on Monday, has reportedly sold hers for £153,100 .
She said she wanted to raise funds for her community allotment, Project Dirt. Confirmation of the sale being completed had yet to emerge.
The news has prompted much debate as to whether it is right that torchbearers, who were nominated for their achievements, sporting contributions and community work, should be allowed to sell their torches and uniforms after the event.
Some of the 8,000 torchbearers are trying to make a sale before they have carried the torch in the relay, at a time when bidding online is busy and the majority of torchbearers are yet to run
Ms Milner Simonds, from Burnham-on-Sea, told BBC Breakfast it only occurred to her on Saturday night that she could sell the torch and she was dismayed people who objected to her decision had started sending her unpleasant emails.
"Obviously it has really upset people but I think that it's not something that is really me, to keep my shiny trophy on a mantelpiece when it is obvious how much good one can do with the money that someone might be willing to pay for it," she said.
She still needed to check if the winning bid was genuine.
"It is an extraordinary amount of money, but of course when I realised that the first torch was on eBay and sold for over £3,000, I thought 'Oh my gosh, that is obscene, imagine what good you could do with £3,000'."
She added that the money would pay for "a heck of a lot of seeds".
Adam Wolley, 24, of Saxtead, Suffolk, had listed his torch for sale on eBay at a starting price of £750. He was chosen to carry the torch through Melton, in Suffolk on 5 July in recognition of his fundraising after catching malaria while travelling in Africa during a gap year.
Bidding reached £2,050 but by 13:00 BST on Monday the auction was cancelled.
In the listing, viewed by more than 1,500 people, Mr Wolley told potential bidders it was "Your chance to own a piece of history," and promised 10% of the sale price would be donated to a school refurbishment programme in Uganda.
He declined to comment on the eBay auction when contacted by the BBC.
Torchbearers were told in March that they will have to pay £199 if they want to keep the torch as a souvenir of their special day.
Olympic organisers Locog defended the cost at the time, saying a torch costs £495 to make and it was subsidising the price.
The flame will be carried a total of 8,000 miles on its 70-day journey to the opening ceremony of the Olympic Games on 27 July.
It is being borne by members of the public, young and old, and Olympians and other VIPs will also carry the torch.
Each of the torchbearers will run with the flame for about 300m before lighting the next bearer's torch in a "kiss".
Officers from the Torch Security Team, co-ordinated by the Metropolitan Police, are accompanying the runners throughout the relay.