Ceefax founding editor Colin McIntyre dies at 85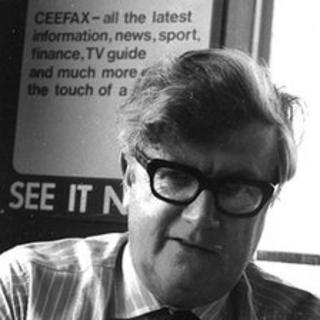 The founding editor of the BBC's Ceefax service - the world's first teletext service - has died at the age of 85.
Colin McIntyre, who worked for the BBC for 30 years, died in hospital on Thursday after a short illness.
When Ceefax was launched in 1974, he updated all 24 news pages on his own, feeding punch tape into machines.
When he retired in 1982, Ceefax had a 20-strong team. It went on to attract 22 million viewers a week and inspired teletext services around Europe.
Ceefax will end its transmissions in October when the digital switchover is completed. McIntyre's death comes just four weeks after the service was switched off in London.
The technology for the world's first teletext service was developed by BBC engineers who were trying to find ways of providing subtitles on TV programmes for the deaf, rather than produce a news service.
They found that it was possible to transmit text information in the "spare lines" transmitted on the analogue TV signal.
McIntyre, who had worked at the BBC since 1952 including a spell as a correspondent based at the UN, was then appointed as the first editor of the service. At one stage, he had the country's only Ceefax-enabled TV set at his home.
In Ceefax's early days he worked regular office hours so the service was not updated in the evenings or at weekends.
The audience take-up rate was slow for the first seven years, because of the expense of the decoders needed to broadcast Ceefax onto TV sets, but soon the service expanded year by year.
He took early retirement at the age of 55 to write books, while acting as a teletext consultant in Europe, Australia and New Zealand.
His publications included a book called "Monuments of War: How to Read a War Memorial" and World War II At Sea.
He also became one of the Oasis poets - World War II servicemen who wrote poetry about their experiences between 1939 and 1945.
Born in Argentina, McIntyre had come to the UK aged 17 to join the Army and was commissioned in his father's county regiment, The Black Watch.
He later served as a platoon commander and company commander with the Lovat Scouts in Greece, and as a captain and staff officer with the Sixth Airborne Division in Palestine.
After leaving the Army, he took an honours degree at Harvard University, which he attended at the same time as Edward Kennedy.
'Great communicator'
He was a renowned journalist at the BBC and became one of the youngest chief-sub editors in the newsroom when he was promoted to that role in 1955.
He later trained as a TV producer and served as a correspondent at the UN during the Suez and Hungary crises before becoming the BBC's chief publicity officer for seven years and programme promotions executive between 1972 and his appointment as Ceefax editor in 1974.
He is survived by his American wife Field, with whom he recently celebrated 60 years of marriage, three daughters and a son, four grandsons, three grand-daughters and a great-grand-daughter.
Daughter Miranda McIntyre, who also had a spell working on Ceefax, said her father had always been very proud of his role developing the world's first teletext service.
She said: "He was a great communicator and quickly saw the opportunity to broadcast news and sport details as they happened, building up a team of journalists all expert at typing 'live copy'.
"It is hard to imagine in these days of the internet, but this was the first time that viewers could access the latest news whenever they wanted it, rather than waiting for the next news bulletin."
Ralph Rivera, BBC director of Future Media, said: "Colin McIntyre was a man with a vision and the drive to make that vision a reality.
"His pioneering work laid the foundations for much of the development work that we do at the BBC today."