Jubilee lunch: Queen's guest list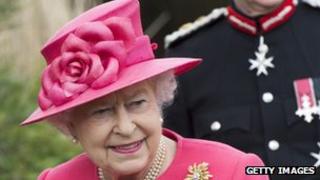 Monarchs from 26 countries are attending the Queen's Diamond Jubilee lunch at Windsor Castle, which is due to start at 12:30 BST on Friday.
The private event will be followed by a dinner at Buckingham Palace, hosted by The Prince of Wales and the Duchess of Cornwall.
Twelve members of the British Royal Family - including the Duke and Duchess of Cambridge, Prince Harry and the Duke of York - will also be there.
Here is a full guest list of foreign royals attending the lunch for sovereign monarchs:
HM The King of Bahrain and HRH Princess Sabeeka bint Ibrahim Al Khalifa,
HM The King of The Belgians and HM The Queen of The Belgians,
HM The Sultan and Yang Di-Pertuan of Brunei and HM Raja Isteri Pengiran Anak Hajah Saleha,
HM King Simeon II of the Bulgarians and HM Queen Margarita of the Bulgarians,
HM Queen Margrethe II of Denmark and HRH The Prince Consort (Denmark),
Former King Constantine of the Hellenes and Queen Anne-Marie of the Hellenes,
HM The Emperor of Japan and HM The Empress of Japan,
HM The King of the Hashemite Kingdom of Jordan and HM Queen of the Hashemite Kingdom of Jordan,
HH Sheikh Nasser Mohamed Al-Jaber Al-Sabah of Kuwait,
HM King Letsie III of Lesotho and HM Queen Masenate Mohato Seeiso of Lesotho,
HSH Prince Hans-Adam II of Liechtenstein,
HRH The Grand Duke of Luxembourg and HRH The Grand Duchess of Luxembourg,
HM Seri Paduka Baginda Yang di-Pertuan Agong of Malaysia and HM Seri Paduka Baginda, Raja Permaisuri of Malaysia,
HSH The Prince of Monaco and HSH The Princess of Monaco
HRH Princess Lalla Meryem of Morocco,
HM The Queen of the Netherlands,
HM The King of Norway and HM The Queen of Norway,
HH The Emir of The State of Qatar and HH Sheika Mozah bint Nasser Al-Missned,
HM King Michael I of Romania and HM Queen Anne of Romania,
HRH Prince Mohammed Bin Nawaf Bin Abdulaziz Al Saud of Saudi Arabia,
HM King Mswati III of Swaziland and Inkhosikati LaMbikiza,
HM The King of Sweden and HM The Queen of Sweden,
HRH The Crown Prince of Thailand and HRH Princess Srirasm of Thailand,
HM The King of Tonga and HM The Queen of Tonga,
HH The Crown Prince of Abu Dhabi,
HRH The Crown Prince of Yugoslavia and HRH The Crown Princess of Yugoslavia.