Conflicting accounts on Britons' Syria deaths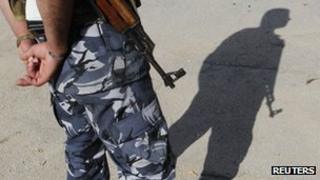 Two Britons have been killed "engaged in terrorist armed operations" in Syria, its UN ambassador has claimed.
It was reported in March that they were freelance journalists who had returned to a house to retrieve equipment.
In a letter to the UN, Bashar Ja'afari said the men were among 10 non-Syrians killed fighting the Syrian army.
The Foreign Office said it was aware of the "death of a dual British-Algerian national" and "reports of the death" of a UK national in Syria.
The Foreign & Commonwealth Office (FCO) said British nationals were advised not to travel to Syria.
Bashar Ja'afari's list stated the two Britons had died in the province of Idlib. It named one of the Britons as Walid Hussein Blidi, who it said was "born in London in 1985".
The Doha Centre for Press Freedom released a statement in March saying Mr Blidi was an independent journalist who had been shot dead by the Syrian army after he crossed the border from Turkey on 26 March.
The Foreign Office confirmed on Thursday that consular staff had been in contact with Mr Blidi's family.
Referring to the death of a second British national, the spokesperson said: "As the British Embassy in Damascus has suspended services we are limited in the assistance we can offer, however we stand ready to provide consular assistance if necessary."
Mr Ja'afari's list included two French nationals of Arab origin, four Tunisians, an Egyptian and a Saudi.
News reports in March said the Britons were filming a documentary about Syrians escaping the conflict in their country and fleeing to Turkey.
The men were said to have fled when the Syrian army began shooting at a house they were staying in with Syrian activists.
Syrian forces were reported to have fired at them when they returned to the house when the shooting seemed to have stopped.
The UN believes at least 9,000 people have died in Syria since a revolt against President Bashar al-Assad's rule began last year.
Starting as largely peaceful demonstrations against the government, the uprising has increasingly turned into an armed conflict following repeated violent crackdowns by the security forces.
A ceasefire was supposed to come into effect on 12 April, but there have been widespread violations by both sides, according to the UN.
The FCO has asked British nationals in Syria to "leave now by commercial means whilst these are still available".
"Those who choose to remain in Syria or to visit against our very clear advice should be aware that we are not able to provide normal consular services nor are we able to organise or assist your evacuation from the country", the spokesman added.