Commonwealth
By Amber Dawson
BBC News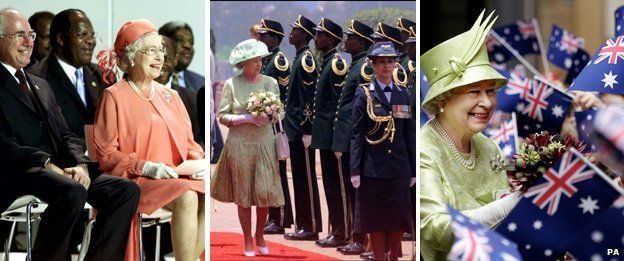 As part of our Diamond Jubilee series of your memories of Queen Elizabeth II we are looking at your recollections of meeting or seeing the Queen in her role as head of the Commonwealth.
As well as being head of state for the United Kingdom, Queen Elizabeth II is head of state for 15 Commonwealth realms.
She also heads the Commonwealth itself, a voluntary grouping of 54 independent states with origins in Britain's former colonial empire, with countries ranging across the globe from Asia, Australasia and Africa to the Americas.
On her 21st birthday, the Queen famously pledged her life to the service of the Commonwealth.
Here, BBC News website readers with strong ties to the Commonwealth, recall the years they met the Queen and share their memories.
Julia Walkley-Sherman, Toronto, Canada, in 1973 and 1984
In 1973, when I was 12 years old, my dad took my brother and me to the Toronto International Airport because the Queen was coming to Canada!
Back in those days, crowds could gather on the tarmac as long as you stood behind the roped area.
I was really excited and we had all got dressed up, should the Queen stop to chat.
It felt surreal that I was going to see the Queen. In Canada she's a legendary figure.
All the while we waited for her to arrive, I was thrilled to take lots of pictures with my very own camera.
When the plane arrived and the Queen walked down those stairs and then shook hands with the dignitaries, I was all ready with my camera...then the terrible discovery was made! I had taken so many pictures I was out of film!
The Queen walked passed us and I saw her up close.
Eleven years later in 1984, I was fortunate enough to have been invited to a military garden party where the Queen stopped directly in front of me.
She spoke to an army veteran. What struck me is how wonderfully blue her eyes were.
With strict instructions not to take photos, I clutched my camera, which I knew, had film in it this time.
I may not have pictures to prove it, but I have the memories!
As a Canadian I feel very strongly that our membership of the Commonwealth, with the Queen as our head, is very important.
It reminds us where we come from and why we are separate from the United States.
I have great respect for the Queen. She has retained her role with dignity and dedication.
Julia is 49 and lives in Aurora, Ontario, Canada
I am Danish by birth but have lived mostly in Canada and am a Canadian citizen.
I think of the Queen as our head of state, the Queen of Canada and the head of the Commonwealth.
In 1986 the Queen visited Vancouver on the Royal Yacht Britannia.
The atmosphere was very celebratory.
There were lots of tug boats and smaller vessels escorting Britannia and the Queen as she came into the port of Vancouver.
I could see it all from my office window on the waterfront.
In the summer of 1998, I was in London on a business trip working with Chilean colleagues and was invited to a polo match between the UK and Chilean national teams at Cowdray Park.
At half time I descended onto the field with several other spectators to do my share of "divot stomping".
About 25 yards from me a very nice elderly lady, who was also happily stomping away, smiled at me.
I smiled back and realized at that instant that it was Her Majesty the Queen.
My experience of this fleeting moment was to recall the words of a famous Danish poet who said that the shortest distance between two people is the smile.
I feel the Queen is our connection with history.
For me, the Queen provides a living link through the centuries for the culture, law, history and other traditions from the United Kingdom that are widespread in many places around the world and not just within the Commonwealth of Nations.
Lars Mathiesen is 57 and lives in Delta, British Columbia, Canada
Anne Buckley, Canberra, Australia, 1963
As an Australian teenager from an Australian territory I had the honour of acting in the flag waving groups on the Queen and Prince Philip's trip to Canberra in 1963.
I lived at Cocos (Keeling) Island and four of us went from there to Canberra, two girls and two boys. I was 14 and so excited.
We hadn't done anything like it before and when we reached Canberra there were coachloads of us - maybe 10 coaches.
We stayed in dormitory accommodation in Canberra for a week and had instructions on what we were to do every morning.
During the visit, we stood with our flags along the side of a train track when she arrived, or beside a road where she arrived.
We were also in the audience at a recreation ground.
Everywhere we went, we were asked 'Have you got your flag?'. They were little Australian flags on a stick.
It was all very special because it was celebrating the 50th anniversary of the founding of Canberra and the Queen was visiting as head of the Commonwealth, not just head of state of Australia.
At the end, there was a garden party in a very posh location. We were arranged in a great horseshoe and the Queen and Prince Philip walked around and talked to us.
I was very impressed by their charm and at their ability to talk to people they don't know.
I live in the UK but I'm still an Australian and think of the Queen that way - as head of the Commonwealth.
Having followed her around for a week and watched her I saw how much hard work it must be, doing the same thing again and again and again.
She looked cool and relaxed the whole time. The whole week left me in awe of the tireless work she does for Britain and Australia.
Even as a young girl I could see that this life of service was not an easy one and I did not want to swap.
Anne Buckley is 63 and lives in Saddleworth, Yorkshire
I was born and grew up in India. My father was in the Indian army, as my grandfather and great-grandfather had been before him.
The Queen meant a great deal. It may have been newly independent India, but the links and traditions with the UK and the Queen were very strong.
Every week my parents received the London Illustrated News - a sort of 1940's version of Hello! but full of news, and with plenty of news and photos of the Queen.
The first time I saw the Queen in real life was in June 1957 when I attended the Trooping of the Colour in London.
I was 10 and I just loved it. It was absolutely stunning.
Everything was so much more casual. Now security is immense, but it wasn't like that.
I saw her again in 1959 when I was at boarding school in England and was invited by a friend's family to the presenting of the Colours at a local naval station.
In the 1950's and 60's, Her Majesty the Queen & Prince Philip were the people we young people looked up to.
They have withstood the test of time and are a constant for our country and the Commonwealth.
To us in India, the Queen was the essence of Britain, someone committed to sharing the best of Britain and doing their duty and we were a generation brought up on duty.
For me today, the Queen has been an enormous constant in my life and I have great respect for her.
I go back to India constantly and she remains highly regarded for being the glue that keeps the Commonwealth together.
I think it was Kenneth Kaunda who said that if it wasn't for the Queen, the Commonwealth wouldn't exist.
Aline Dobbie is 65 and lives in Hartree, Peebleshire
Stuart Penny, Lusaka, Zambia, 1979
My dad was working in Zambia, building schools and working in teaching and trades training.
It was July 1979, I was 15 and home on school holidays, which was great timing because the Queen came to Zambia on a state visit.
Wherever Scots gather abroad there is always a good ex-pat community and for us that was the Caledonian Society.
On the day the Queen arrived, the Caledonian Society in their full kilted regalia were allowed out onto the tarmac at Lusaka International Airport and with banner un-furled we stood and waited.
Security was tight.... well apart from about 20 Scotsmen all in kilts, all with sgian dubhs stuffed down our socks!!
We had a great view, the Queen's plane was to arrive right in front of us - until, that is, the Zambian government ministers arrived and stood right in front of us.
With British reserve there was a lot of 'cough, cough' and 'splutter, splutter' until one of the ministers turned round and said to my dad "She's our Queen too, you know."
No-one came to visit Zambia, so standing there waiting for the Queen to arrive was surreal.
The schools were all lining the airport road and there were screaming children everywhere shouting "Queenie".
It was lovely, it felt like the Queen was coming just to visit us.
It was a fantastic day and looking back on it a much more innocent time.
For me, growing up in the Commonwealth, there is no doubt that when the Queen visits a Commonwealth country the love that goes out to her is fantastic.
For all of us, we are going to see our Queen.
Stuart Penny is 47 and lives in Dunfermline