Swimming: A skill to save lives and enhance them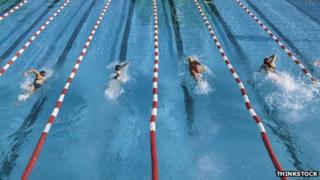 With research suggesting a third of children cannot swim before they leave primary school - many never having had a school swimming lesson despite the requirements of the national curriculum - BBC reporter Samantha Dalton explains how swimming shaped her youth.
There is no shampoo on the market that fully removes the smell of chlorine from your hair.
When I was growing up as a competitive swimmer, my school friends would often comment on the faint chemical smell drifting across the classroom after I had been to pre-school training.
Was I bothered? What teenage girl would not be. But would a little taunting force me to quit? Absolutely not.
Swimming for me - then and now - is far more than an important life skill.
The sport taught me discipline, kept me fit, off the streets and out of trouble, brought me life-long friends and shaped my personality.
So it pains me to read that around 200,000 English children cannot swim 25 metres by the age of 11 , and that the government is not more committed to ensuring youngsters learn the basics of staying afloat.
Ultimately, you never know when this under-valued skill could be used to save a life.
Taking the plunge
At school I was lucky. My state primary had a small outdoor pool of its own, which sometimes opened after classes in summer and provided ample opportunities to splash wildly and inefficiently across the width, learning not to be afraid of the wet stuff.
When I was about 11 years old, I persuaded my parents to sign me up to the local competitive club. I didn't leave until I was 17.
Teenagers often struggle with the concept of "fitting in" and, as a smart girl in a secondary school where intelligence was often ridiculed, I felt like an outcast.
Swimming therefore, was my sanctuary.
I belonged to a team. We trained hard, in competition as much with ourselves as each other.
I was never the best. I did not have the fastest times or most efficient technique, and looked fairly ridiculous in a lop-sided swimming hat and goggles that filled steadily with water every time I tumble-turned.
I do not claim to be "sporty". I cannot catch, I throw "like a girl", I swing most types of racket, bat or stick without accuracy and possess about the same standard of fast-twitch muscle fibre as a hippopotamus.
But like the humble hippo, I could swim. It become part of my identity. I was proud to be the girl in year eight who smelled of chlorine.
But not everyone enjoyed the same experience.
Helie Franklin from Wiltshire hated swimming as a child, and despite being a keen sportswoman, has never overcome her fear of the water.
"Swimming was like torture to me," she said.
"I was not introduced to it until school. We were made to jump on the bus wearing ridiculous swimming hats... and after swimming had five minutes to change and pile back on with uniforms twisted in all kinds of directions."
With around 44 children in the pool at one time, Helie believes her teachers just gave up on the non-swimmers.
"They would point at the shallow end or at the children's pool and fling in some polystyrene floats - and that was it! No-one bothered to help - their time was spent in the deep end with the great swimmers.
"I could not wait to get out of the freezing water and away from the pool."
Despite trying to learn to swim in her 30's, Helie still tells people she cannot swim at all, to avoid having to confront her fear of water.
"When the water rushes around my head, swooshes into my ears and stings my eyes a little, it frightens me. Going under would be it. It really does scare me."
Head above water
I know I look back on my swimming career with the rose-tinted spectacles of age and experience. It is not a sport for the faint-hearted.
Competitive swimming requires a high level of commitment from both the swimmers themselves and their families, and I can only thank my parents for the countless times they walked bleary-eyed with me to the pool for early-morning training, or ferried me to and from weekend swimming meets and galas.
I gave up the sport because I realised I would never be a Rebecca Adlington, and that academic studies needed to take precedence.
However, I harnessed my skills as a swimmer to gain employment and ensured the time spent ploughing up and down the pool did not go to waste.
Two days after my 16th birthday, I qualified as a pool lifeguard. That same summer, I passed my assistant swimming teacher exam. Both jobs paid better than retail or bar work and allowed me to keep my head above water financially as university life loomed.
So what should the government do, to ensure more children submerge themselves in a life in the pool?
If I had my way, I would ensure swimming became as much an established part of the school timetable as maths, science or English.
As the Amateur Swimming Association rightly points out: "Swimming is the only subject on the national curriculum that can save your life."
Having not been introduced to swimming at an early enough age, Helie fears another generation of children may grow up afraid to take the plunge.
"I feel I miss out on holiday, when I cannot and do not take part in the water-based activities," she says.
"When I was growing up, the facilities were absolutely dire and only open at certain times of the year."
Helie and I agree that heavy investment in facilities is desperately needed, to ensure children's experience of swimming does not put them off in later life.
I was once told there were more Olympic-sized swimming pools in Sydney, Australia, than in the entire United Kingdom. If true, this is a shameful statistic.