Evictions in Azerbaijan 'similar to London Olympics'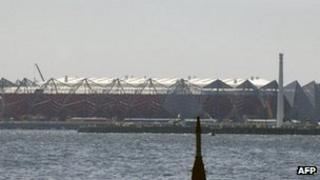 The demolition of homes in Azerbaijan to make way for the Eurovision venue has been compared to London clearing land for the Olympics, by the contest's head.
The head of the European Broadcasting Union (EBU) said the hundreds of forced evictions in the capital, Baku, were not unique. She said the hosting of major sport and entertainment events always left some local people unhappy with the upheaval.
Human rights groups have accused Azerbaijan of numerous violations.
The EBU is the association of national public broadcasters responsible for staging the Eurovision Song Contest each year.
Belongings destroyed
Director General Ingrid Deltenre told the BBC's Panorama programme that evictions were part of the infrastructure needs of hosting large contests such as Eurovision.
"To be very frank I think evictions are taking place everywhere," Ms Deltenre said. "It is more about the way that you're doing it, about proper procedures, proper compensations and here I can't comment because I don't know but again, when the Olympic village was built in London there were evictions as well and you had heavy protests."
In Baku, blocks of communist-era flats near the site of the city's new Crystal Hall venue were bulldozed after residents were ordered to leave.
When some residents refused, demolition went ahead while they were still living there.
Some were dragged from their homes and had their possessions destroyed.
While compensation was paid, many residents said they only received a fraction of what their homes were worth.
In London, the Olympic organisers used much undeveloped land but paid more than 3,000 businesses and individuals to relocate away from the Olympic site.
Free speech?
The Azeri regime said the evictions and demolition in Baku were unrelated to the Eurovision arena and were part of a longer term, seven year reconstruction plan for the area.
The programme asked Ms Deltenre for her reaction to the Azeri decision to have a Russian pop singer who is the son-in-law of President Ilham Aliyev perform during the show.
She responded that she was powerless to do anything about the move, but added: "Yes, it is something we would say, 'Oh, is this really necessary?'"
Amid human rights campaigners raising cases of political opponents being detained or threatened in Azerbaijan in the run-up to the contest, Ms Deltenre conceded that this year's Eurovision host country did not respect the right to free speech that the EBU considers to be a "core value".
When asked how important it was for the EBU to be a champion of free speech, she said: "Very important because as an organisation we are representing public service media and public service media means media that serves the public.
"Because without free speech, without freedom of expression, you're not able actually to fulfil the core remit."
In a recent interview with BBC News, a senior Azeri government minister, Ali Hasanov, defended his country's record on both the forced evictions and on attacks on press freedoms.
"Let me assure you that Azerbaijan, even among those whose houses are demolished and among those who are journalists, a comparison between those who are satisfied and those who dissent is 99 to one... 99% are satisfied and 1% dissents. But in what country in the world are all the people satisfied?"
Panorama: Eurovision's Dirty Secret, BBC One, Monday, 21 May at 20:30 BST and then available in the UK on the BBC iPlayer.