Waving off Blue Peter to distant shores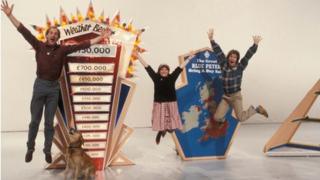 The mood of many at the news the BBC is to move its children's programmes, including Blue Peter, off BBC One and Two, was summed up - in thoroughly modern fashion - in the hashtags on Twitter.
They said things like "#childhoodgone"; "#howcouldthey"; "#blueblues"; "#ivebeendreadingthisday"; "#aww"; "#childhoodmemories"; "#RIPBluePeter".
Some of this nostalgia and regret stemmed from a mistaken belief that Blue Peter was to be axed altogether, when in fact it will move along with the rest of the BBC's children's offering to the dedicated CBBC and CBeebies channels.
A tweet from the BBC's head of press & media relations, Julian Payne - saying: "For absolute clarity the BBC is not ditching Blue Peter" - struggled to slow Twitter's rumour mill.
Meanwhile, Digital Spy website polled its readers with the question: "Is the BBC right to axe Blue Peter and other kids' shows from BBC One and BBC Two?"
While a majority of about 55% of respondents accepted, "Yes - there's nothing wrong with popping kids' shows on a children's channel," some 45% still felt, "No - Blue Peter is an iconic programme that deserves to be on a major channel."
The BBC points out that the numbers watching children's programmes on the terrestrial channels occasionally drop as low as 1,000 nowadays, while audiences on CBBC and CBeebies have increased steadily since the digital channels' introduction in 2002.
And after the last analogue transmitters are switched off in October, it removes the requirement to maintain access to particular programmes by keeping them on the two main channels.
'Multi-channel generation'
"It would appear the ratings justify the move," says Andy Crane, who started his presenting career alongside Edd the Duck in the Children's BBC "broom cupboard" - on BBC One of course - in 1987.
"Kids know where their programmes are. Their fingers fly around the remote control at startling speed," he says.
"It's just an acknowledgement that that particular generation are the first completely multi-channel generation. The audience won't notice at all."
How many of those people apparently deeply exercised at the development would ever have noticed without the accompanying news coverage is open to speculation, but it seems safe to assume a great many haven't sat down and watched Blue Peter in years.
"There is no real argument for keeping it on a generalist channel like BBC One," says Dr David Oswell, reader in sociology at Goldsmiths, University of London, and author of the book Televison, Childhood and the Home.
"Most children, even from an early age, have the skills and the confidence to flick through the channels, and recognise which channels serve their interests.
"It's in some ways irrelevant to their viewing whether BBC One has children's TV or not."
'Watch without mother'
But Sara Broad, lecturer in English and education at the University of Reading, disagrees: "Sadly, the downgrading of programmes like Blue Peter and Newsround, to the digital channels CBBC and CBeebies, sends out the message that children's television requires less and less consideration."
She fears the increasing dominance of American imports on digital channels generally, and that the BBC's decision only increases the likelihood young viewers "will be lost in a cycle of cartoons and US high school sitcoms".
"Many US programmes are written as pure product placement, while some of the BBC children's television of the past was groundbreaking in helping children ask questions about science, literature, nature and current affairs.
"I only hope that today's decision does not pave the way for a generation that loses a sense of cultural identity and who do not reflect on their viewing choices."
Dr Oswell also dismisses the argument that, because children's programmes can no longer be followed by shows aimed at all ages, viewing as a family will be reduced.
The "watch with mother" idea has always been "fairly mythic", he believes.
But former Blue Peter presenter Peter Duncan feels strongly that losing a show with its history and philosophy from the mainstream of the BBC is "wrong-headed thinking".
Duncan, who was the Scout Association's chief scout from 2004-09, believes the decision is symptomatic of a general marginalisation of young people and their interests.
"It's not recognising the importance of young people in society," he says. "Separating them from the rest of society is wrong - we should be making young people feel they are more important, not just in their own world."
Citing the example of another legendary BBC children's show that was thought moribund before being reinvented to international success, Duncan wonders whether Blue Peter too could have had a Doctor Who-style revamp.
"Blue Peter is so iconic, I would go in the opposite direction," he says. "I would make it into something that is a bit more exciting and bigger.
"I would put it at prime-time and put more resources into it and make it something very special - because it has the history."
Announcing the decision as part of the corporation's Delivering Quality First cost-saving plans, the BBC Trust was quick to point out: "Children's programmes are absolutely fundamental to the BBC and that is why we have protected investment in them in the light of cuts elsewhere."
This, more than where programmes are found by a generation of viewers "quite happy flicking through the channels", is the all-important issue, says Dr Oswell.
"As long as the BBC continues to invest properly in children's programmes, and to market those programmes properly, that's what really counts."