Marie Colvin: Tributes paid to 'heroic' journalist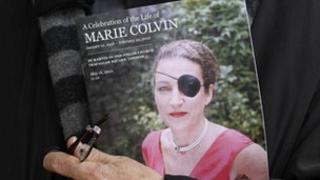 Politicians and journalists have taken part in a service to celebrate the life of Sunday Times journalist Marie Colvin, killed in Syria in February.
Her editor, John Witherow, paid tribute by calling her the "greatest war correspondent of her generation".
The service took place at St Martin-in-the-Fields church in London.
Former foreign secretary David Miliband read a poem and singer Cerys Matthews performed two songs including Bob Dylan's Blowin' in the Wind.
Ms Colvin, who was 56, was killed on 22 February when a building which was serving as a media centre in the city of Homs was struck by a mortar round.
Guests at the service included her mother Rosemarie and sister Cat, Foreign Secretary William Hague, former Liberal Democrat leader Charles Kennedy, journalists Martin Bell and Jon Snow.
Mr Witherow said Ms Colvin's death had sparked an outpouring of grief throughout the world.
"Marie inspired love, affection and respect wherever she went. She had a gift of friendship and she nurtured many friends with as much love as she cared for her journalism," he said.
"Everyone here knows we have lost someone unbelievably special and our lives are poorer for not being able to see that smile, hear that throaty laugh and simply enjoy the company of a remarkable woman who was the greatest war correspondent of her generation."
BBC foreign correspondent Lyse Doucet, who had worked with Ms Colvin in Israel, Iraq, Afghanistan, Egypt and Libya and Syria, paid tribute during the service, saying "the bravest of the brave was also the kindest of the kind".
The service also heard a poem composed by Alan Jenkins, deputy editor of the Times Literary Supplement who was a close friend of Ms Colvin.
He told the congregation that his poem, Reports of My Survival May be Exaggerated, had been written three days after her death and was inspired by one of the last Facebook updates she had sent.
The Rev Richard Carter, of St Martin-in-the-Fields in Trafalgar Square, told the congregation: "There are many like me who feel that they knew her because of her brilliant ability as a writer to open our eyes and our hearts to the reality of the world and tell the stories of real people.
"She experienced the struggle and the fear and the pain from alongside them and knew it intimately because she loved life and longed to put an end to suffering, the suffering that she reported on."
Prayers were said for the safety of reporters working in war zones and for an end to the conflict in Syria.
After the service, Foreign Secretary William Hague tweeted: "A beautiful service for a heroic and much-missed correspondent."
Mr Miliband said it was an extraordinary memorial service, "passion, respect, humour. Honoured to be part of it".