Afghan detainee wins right to challenge transfer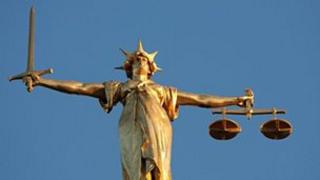 An Afghan detainee handed over to authorities in the country by British forces has won permission to challenge the legality of his transfer.
Serdar Mohammed says the Afghan intelligence service tortured him into confessing he was part of the Taliban - UK policy is that transfers must not put detainees at risk of torture.
A judge at London's High Court gave him leave to seek a judicial review.
The Ministry of Defence said there was a "temporary hold" on such transfers.
"Detention operations are an important part of our force protection measures protecting our people, our allies and partners, and the Afghan civilian population," a spokesman said.
"They also directly contribute to the success of the... mission in Afghanistan and ultimately to UK national security."
"In response to a recent UK inspection there is a temporary hold on transfers while we assure ourselves that UK detainees are not at risk of serious mistreatment or torture."
Linked legal challenge
In court, Mr Justice Collins said Mr Mohammed had "an arguable case" that should go to a full hearing, but that his decision did not mean the challenge would necessarily succeed.
He added that Defence Secretary Philip Hammond had stopped all transfers of detainees from British forces to the Afghan authorities "as part of an ongoing review".
The judge also gave permission for a linked legal challenge by peace campaigner Maya Evans who, alongside Mr Mohammed, is arguing that safeguards meant to protect transferred detainees from torture or mistreatment were not working.
The MoD had argued that the two cases - both funded by legal aid - were too costly for the taxpayer and only one should be allowed to go ahead.
Mr Justice Collins said the court would be asked to decide if it was lawful to hand over alleged enemy combatants held by UK forces to the Afghan authorities for possible prosecution.
He said that in a 2010 case brought by Ms Evans, the High Court ruled that detainee transfers to certain Afghan detention centres could only continue subject to certain safeguards.
It said there should be no transfers to the National Directorate of Security facility in Kabul because it was regarded as "entirely unsafe".
Mr Justice Collins said it was alleged: "Mr Mohammed was transferred and was tortured and there is evidence, it is said, similar circumstances have surrounded other transferees.
"The concern that is raised is that events have shown that it really is not possible to avoid torture, or the real risk of torture, by the imposition of safeguards. That is the burden of the claims made."
Civil damages claim
Mr Mohammed's lawyers said he was beaten by UK soldiers when he was initially detained in April 2010. He is set to launch a civil claim for damages in the UK over those claims.
They said he was handed over to the NDS after two months, and was then beaten, hooded and shackled in stress positions.
Lawyer Ben Jaffey said Mr Mohammed eventually signed a confession that he was a member of the Taliban and was sentenced to 16 years in prison, eventually reduced to six years.
Mr Mohammed is set to appeal against his conviction and sentence before the Afghanistan Supreme Court.
For the defence secretary, James Eadie QC said UK forces had caught Mr Mohammed in a firefight as he fled along a road where a rocket-propelled grenade launcher was found, but denied knowing anything about it.