Rebekah Brooks stands firm at Leveson Inquiry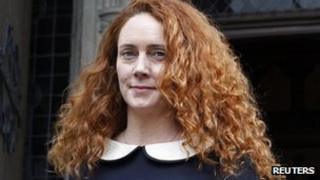 If Rebekah Brooks had been a "grumpy old man of Fleet Street" would she have been treated differently at the Leveson Inquiry?
It was a question she raised herself, after almost five hours of testimony - and she was not only referring to the barrister with whom she had been crossing swords, Robert Jay QC.
From the moment she took the oath, the former tabloid editor and News International chief executive was being judged as a woman - albeit a very powerful one.
Observers quickly commented on her demure choice of outfit, a dark blue dress with white collar and cuffs - a marked contrast to her trademark mass of red curls.
Some described it as "Puritan chic" and the "Salem" look, though the better-informed said it was a "Peter Pan collar" (on a £475 Marcie dress).
The Guardian's fashion writer Jess Cartner-Morley, wrote: "A white Peter Pan collar sends the most unambiguous of fashion messages.
"This is pop culture shorthand that even David Cameron couldn't misinterpret. It means innocence, both in the sense of being free from guilt, and of a lack of sophistry."
Male writers felt the look was more ambiguous. Under the headline "She sashayed in, a pirate with those wild auburn curls", the Evening Standard's political editor Joe Murphy wrote: "Her black dress had a demure neckline but rose cheekily above the knee."
Mrs Brooks undoubtedly chose her dress with care - but no grumpy old man of Fleet Street would have got that treatment.
'Gossipy items'
Then there were those sign-offs on text messages from the prime minister.
"Occasionally he would sign them LOL - lots of love" she said "until I told him it meant 'laugh out loud'". Would he have used such shorthand to a grumpy old man?
Throughout the day, Rebekah Brooks faced questions about her relationships with powerful men, including three prime ministers and her boss Rupert Murdoch (who memorably, when asked what his priority was at the height of the scandal, replied "this one", pointing at her).
"I think a lot of it is gender-based," she told Mr Jay. "You've put to me quite a few gossipy items. You've asked me if I've been swimming with Mr Murdoch, about my personal alchemy, did Mr Murdoch buy me a suit? If I was a grumpy old man of Fleet Street - no one would write the first thing about it."
But that is the point. She was not a grumpy old man. Until her resignation, she was one of the most powerful women in public life.
Yet, unlike most women politicians and many women journalists, her voice and views had rarely been heard in public.
Some said that was because she was nervous of being interviewed. If so, on this occasion she did not show it, exuding calm, with occasional smiles and flashes of humour.
"You need to get better sources," she told Mr Jay after denying a succession of stories he put to her.
Increasing confidence
For almost five hours, she was interrogated on oath and on camera about her discussions with politicians, her political views, her campaigns, her role in News Corp's thwarted bid to take full control of BSkyB and, obliquely, about phone hacking (though questions on this were limited by the ongoing police inquiries).
Mrs Brooks spoke with increasing confidence about her contacts at the heart of government, both Conservative and Labour, openly discussing meetings and conversations with David Cameron, Gordon Brown, Tony Blair and George Osborne.
After resigning from News International, she said, she received indirect messages of support "from No 10, No 11, the Home Office and the Foreign Office".
She said Mr Blair had been in touch but not Mr Brown: "He was probably getting the bunting out."
And though clearly no grumpy old man, she showed herself to be as tough as most male Fleet Street editors.
She denied making threats to successive governments over cases such as the disappearance of Madeleine McCann, Baby P and Sarah's Law, saying she preferred the word "persuasion".
She denied that the Sun had hacked into medical records to discover that Mr Brown's son Fraser had cystic fibrosis, saying it had come from a parent connected to a charity - but despite persistent questioning from Mr Jay and from Lord Justice Leveson, she refused to say where they had got the information from.
As editor of the News of the World and the Sun from 2000 to 2009, Rebekah Brooks has had as much influence over the content and culture of tabloid newspapers - and their relationship with governments - as anyone in recent years, including Rupert Murdoch.
After her five hours in the witness box, we have learned much more about what she thinks and how she works - yet most of the headlines have been grabbed by another potentially damaging email.
Once again, it is government ministers who face most flak from this inquiry into the excesses of the press.