Corgi popularity boosted by Queen's Diamond Jubilee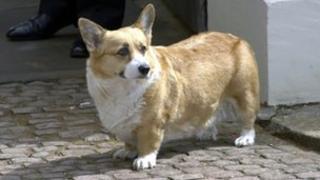 The Queen's favourite type of dog - the corgi - has seen a boost in popularity in her Diamond Jubilee year, according to the Kennel Club.
An increasing number of people are showing an interest in corgi breeds after a long period of "worrying decline", the organisation said.
The popularity of Pembroke Welsh corgis, the Queen's preferred breed, rose by a third this year, it said.
A total of 5,783 people searched for Corgis on its website so far this year.
The official website of the British Monarchy states that the Queen owns three Corgis: Monty, Willow and Holly.
The Queen's corgis travel with her to the various residences, with the Monarch looking after them herself as much as possible given her busy schedule, it states.
Searches for Pembroke Welsh corgi puppies on the Find a Puppy website, the Kennel Club's listings of puppies for sale, have increased by 37% in the past four months.
There was also a 10% increase in the number of Pembroke Welsh corgi puppies registered with the club in the first three months of 2012, compared with the same time last year.
Searches for the Cardigan Welsh corgi, an endangered breed which is cousin to the Queen's Pembroke Welsh corgis, on the Find a Puppy website rose by 59% in the first four months of 2012 compared with the last four months of last year.
In total, 2,231 people have searched for Cardigan Welsh corgi puppies.
The breed is one of 29 native dogs considered vulnerable to disappearing because fewer than 300 puppies are registered a year.
But puppy registrations for Cardigan Welsh corgis have increased, with 17 new dogs registered in the first quarter of the year, compared with 10 for the same period in 2011.
The Royal family has a long association with corgis.
The breed was introduced to the family by the Queen's father, King George VI, in 1933 when he bought one named Dookie.
'Wonderful tribute'
For her 18th birthday, the Queen was given a corgi named Susan from whom numerous successive dogs were bred.
Caroline Kisko, Kennel Club secretary, said: "Sadly dog breeds go in and out of fashion, so after a long period of worrying decline for the corgi breeds it is reassuring to see an increase in numbers.
"It is a wonderful tribute to the Queen that the popularity of her chosen breed and its cousin, the Cardigan Welsh corgi, has increased in her Diamond Jubilee year, which will have raised people's awareness of the breeds."
Other royal choices of dogs have also boosted the popularity of breeds, with the number of searches for cocker spaniels increasing by 32% in the first four months of this year after the Duke and Duchess of Cambridge chose one to be their pet.