Leveson Inquiry: Newspapers to answer corruption claim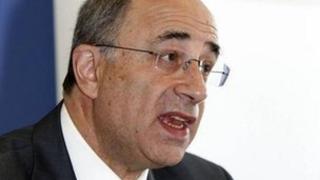 Newspapers will be ordered to reveal to the Leveson Inquiry if they are using anybody's personal data bought in the past by its journalists.
Lord Justice Leveson said media participants in the inquiry must address the "concerns" later this week.
David Sherborne said the practice had been "widespread" across Fleet Street and should be investigated.
It came after it was revealed seven journalists were questioned in 2004 as part of a police corruption probe.
The national newspaper journalists were interviewed about buying data from the Police National Computer, the inquiry into media ethics in London heard.
Det Ch Insp Brendan Gilmour said a Met Police civilian employee had passed details to an ex-officer who gave them to private detectives who in turn sold them on to journalists.
He said the names emerged in a paper trail during a search of the offices of private detective Steve Whittamore.
Mr Gilmour said Whittamore and fellow private detective John Boyall had been selling the information to national newspapers.
Operation Glade
He said it originally came from Met employee Paul Marshall who gave them to former officer Alan King, who in turn passed them to Whittamore and Boyall.
Mr Sherborne later told the inquiry he wanted core participant media organisations to reveal what action they had taken against any journalists who used Whittamore.
He also said he wanted them to explain what steps if any they had taken to identify whether any of this information is still being retained or used.
The counsel to the inquiry said claims by some editors that they did not know about the use of Whittamore were "hardly credible" in the light of Mr Gilmour's evidence.
"What has happened to the journalists who routinely used Mr Whittamore's services, of which there are many?" he said.
"What has happened to the information which they obtained as a result? Has it mysteriously disappeared?"
He said the "core participant" media organisations at the inquiry have never properly explained that.
"This failure has real significance for the inquiry," he added.
Earlier, Mr Gilmour said the names of the journalists were contained in a cache of documents revealing a network of police and public employees selling personal information.
"Whittamore kept very detailed ledgers of his business, and he had invoices in there going out to the various newspapers and named invoices within these newspapers," he said.
"And that's where the seven names came from."
He said the journalists were questioned but not arrested from 19-31 January 2004.
Two were freelancers, one was from the now defunct News of the World, one from News of the World Scotland, one from the Daily Mirror, one from the Sunday Mirror and one from the Mail on Sunday.
Mr Gilmour said the journalists explained they thought the checks were legitimate court checks and that CRO stood for "court records office" not "criminal records office".
He said Operation Glade, which started in August 2003, stemmed from a Devon and Cornwall Police investigation into police corruption.
That linked with an investigation by the Information Commissioner's Office, dubbed Operation Motorman.
The inquiry heard that on 6 March 2004 the Crown Prosecution Service decided there were insufficient evidence to charge any of the journalists.
King and Marshall admitted a charge of misconduct in a public office, while Boyall and Whittamore admitted obtaining personal information contrary to the Data Protection Act.
All four were given conditional discharges in April 2005.