Queen's Speech goat tradition takes time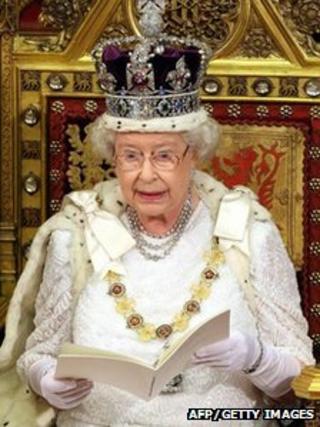 Not long ago a goat died. Some of its flesh was eaten. Some its hide was used to make shoes. And some of its skin was sent to the fine craftsmen who work for William Cowley Ltd.
There, in their small workshop in Newport Pagnell in Buckinghamshire, the artisans cleaned and scraped and bleached and stretched the skin until it was transformed into vellum.
The parchment was then taken to the Stationery Office.
At around the same time a brief document made the short journey from Whitehall down the Mall to Buckingham Palace.
Once the words received the royal thumbs up, an anonymous and highly discreet calligrapher was finally allowed to inscribe the text in special ink onto the vellum.
It takes three days at least for the ink to dry. And today it will be from that piece of ex-goat that the Queen will read her speech to parliament.
Locked down
I make this little journey into parliamentary trivia not to allow you to shine at your pub quiz but to make a point.
Queen's speeches take time.
They are the product of a lot of negotiation within Whitehall. And they have to get signed off many days in advance.
To be precise, David Cameron told his Cabinet colleagues last Tuesday that they had 24 hours to tweak the text before it was locked down.
So all the talk of recent days that the government has softened the language of Lords reform in response to last week's electoral drubbing is wide of the mark.
If there was a "softening", it happened some days, if not weeks ago.
I understand that the Queen will say today simply: "My government will put before parliament a bill to reform the composition of the House of Lords."
'Mere skirmish'
This is much less detailed that what she said in 2010 shortly after the coalition was formed: "Proposals will be brought forward for a reformed second House that is wholly or mainly elected on the basis of proportional representation."
Opponents of reform say the lack of detail today suggests the government is in retreat, giving itself room to water down proposals for a largely elected second chamber, proposals that many Tories oppose and say are secondary to fixing the economy.
But Lib Dem and other supporters of reform say what matters is that there will be a bill, that will be published and debated before the summer break.
The bottom line is that this battle over Lords reform is just beginning, not ending.
The Queen's Speech is a mere skirmish compared to the combat before us.