UK air ambulance services cleared to fly again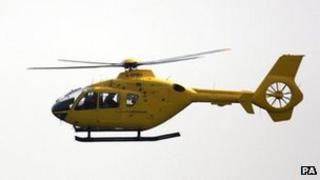 Air ambulances have been cleared to fly again from Wednesday, after half of the UK's fleet of 32 helicopters were grounded over safety fears.
The main operator, Bond Air Services, had withdrawn all 22 of its Eurocopter EC 135 helicopters - including 16 air ambulances - over concerns about possible cracks in the rotor hub.
The model is used by air ambulance services in Scotland, Wales and parts of England.
Flights are set to resume at 07:00 BST.
Earlier Bond said manufacturer Eurocopter had advised pre and post-flight checks after the fault was discovered but that Bond had decided to halt flights as a precaution on safety grounds.
The Association of Air Ambulances (AAA) said 16 helicopters were affected out of the 30 in service for charities in England and Wales plus two run by the Scottish Ambulance Service.
About 1,000 EC 135s are in use around the world, including air ambulance services in England, Scotland and Wales.
In England, the model is in use at Thames Valley and Chiltern, North West, Midlands, Dorset and Somerset, Hampshire and Isle of Wight, and Devon, according to the AAA.
Daily checks
Bond said that it had been working with Eurocopter engineers over the past 34 hours to determine if the fleet could be flown safely.
A spokesman said Eurocopter had "given an unequivocal guarantee" that the EC 135 was safe to fly.
Inspections will be carried out before each flight, the spokesman said.
West Midlands Ambulance Service said it had earlier made contingency plans to cover for the three EC 135s run by the Midlands Air Ambulance charity, while two helicopters run in the area by the Air Ambulance Service remained in service.
A West Midlands Ambulance Service spokesman said: "Safety has to be the number one consideration for both patients and staff and we understand why Bond took the decision they did.
"Clearly it is good news that we will be back up to the full complement of five aircraft."
Air ambulances are used to provide emergency transport where a traditional ambulance cannot get quick or easy enough access, for example, in mountain rescue situations.
The Scottish service is government-funded, but the remainder across England and Wales rely on public donations.
Last month, the European Aviation Safety Agency ordered increased safety inspections on the EC 135 while a possible fault was being investigated.
Bond said its mechanics had subsequently found a crack during maintenance work at Staverton Airport, Gloucestershire, and reported it to Eurocopter.
Eurocopter then issued an additional safety notice on Sunday morning following urging daily visual checks.
It did not order that the fleet be grounded, but Bond said it felt compelled to take that decision.