Cheesy tune wanted as 'national anthem' for UK Cheddar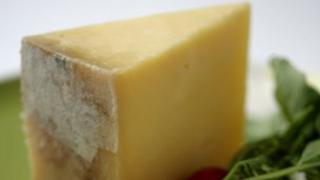 Songwriters are being invited to create a "national anthem" for the UK's most popular cheese, Cheddar.
The British Cheese Board (BCB) wants people to come up with original lyrics to the tune of God Save the Queen, Land of Hope and Glory or Jerusalem.
Entries to the the national competition will be shortlisted and put to a public vote on the board's website.
BCB secretary Nigel White said the trade body was seeking a "fitting anthem to this national treasure".
The competition was launched on Wednesday with a video featuring Sussex choir Vivace .
Mr White said he hoped people from all over the UK, including choirs and musicians, would take part.
He said: "Britain may produce over 700 named cheeses, but there's no doubt that Cheddar is by far and away the nation's favourite.
"In this year of celebrating all things British, the BCB is proud to be highlighting the amazing variety and popularity of British Cheddars and joining with UK cheese lovers to find a fitting anthem to this national treasure."
Entries can be in video or audio form and the closing date is 15 June.
A judging panel of BCB members will select a shortlist of five entries and the public vote will run until 20 July to pick the overall winner.
Alex James, the bassist with the band Blur who has become an award-winning cheese maker, said: "It's important to be buying British right now, and Cheddar truly represents the best of British cheese as it was invented right here in the UK.
"This is a fun way to support British Cheddar and combine two of the best things in life - music and cheese."
The winner of the competition will receive a year's supply of British Cheddars as well as two weekend passes to Alex James's food and music festival in September.