Air ambulance services grounded over safety fears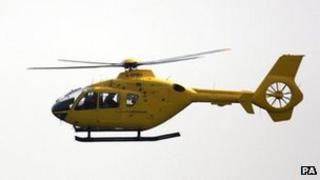 Half of the UK's air ambulance fleet of 32 helicopters has been grounded over safety fears.
The main operator, Bond Air Services, has withdrawn all of its Eurocopter EC 135 helicopters over concerns about possible cracks in the rotor hub.
The model is used by air ambulance services in Scotland, Wales, the North West, Midlands and other counties.
Contingency plans are being put into place, including utilising coastguard and military helicopters.
The EC 135 also operates in Devon, Dorset and Somerset, the Midlands, and the Thames Valley.
Air ambulances are used to provide emergency transport where a traditional ambulance cannot get quick or easy enough access, for example, in mountain rescue situations.
The Scottish service is government-funded, but the remainder across England and Wales rely on public donations.
'Long enough'
The Association of Air Ambulances (AAA) said 16 helicopters were affected out of the 30 in service for charities in England and Wales plus two run by the Scottish Ambulance Service.
AAA vice chairman Bill Sivewright said those services still flying were trying to provide as much cover as possible for affected services.
Mr Sivewright, also the chief executive of the Dorset and Somerset Air Ambulance, said: "We are used to working together so when these things happen we can respond.
"No-one can pretend it is everything we want it to be, but I would rather be in this position than cleaning up after an accident."
Last month, the European Aviation Safety Agency (EASA) ordered increased safety inspections on the EC 135 while a possible fault was being investigated.
Bond said its mechanics had subsequently found a crack during maintenance work at Staverton Airport, Gloucestershire, and reported it to Eurocopter.
Eurocopter then issued an additional safety notice on Sunday morning following urging daily visual checks.
It did not order that the fleet be grounded, but Bond said it felt compelled to take that decision: "We take the view that this has been going on long enough.
"Eurocopter need to give a definitive statement about the problem and the solution to it.
"Until that happens we've taken the view that safety comes first and have suspended the service."
Tim Macmahon, director of government and public affairs at Eurocopter UK, said the advice was to step up daily visual checks while the company awaited further advice from its own airworthiness investigators and the European Aviation Safety Agency.
"That work is urgently going on, but it is always the final decision of the pilot or the operator whether to fly or not," he said.
Eurocopter said more than a thousand EC 135s were operating worldwide and the model had "an excellent safety record".
"Safety is and has always been Eurocopter's top priority," it added.
Stand-in aircraft
A range of regions have been affected:
Scottish Air Ambulance, which uses two EC 135s based in Glasgow and Inverness, said any patient requiring transfer by air would be taken by coastguard and military helicopters, or SAS fixed-wing aircraft
North West Air Ambulance, which has two EC 135s, said a replacement aircraft had been found and was currently operating
Midlands Air Ambulance said Bond was supplying the region - which usually relies on three EC 135s - with a stand-in aircraft of a different model
Wales has lost two of its helicopters, but the third - a different model - is still operational and working extended hours
East Anglia's two helicopters are out of service, but the region is being covered by the Essex and Herts aircraft
Hampshire and Isle of Wight Air Ambulance is still operational as its EC 135 is undergoing routine maintenance and an EC 105 is being used instead
Hampshire is also providing cover for the Thames Valley and Chiltern area, whose EC 135 is grounded
Dorset and Somerset has lost its aircraft, but services are being provided by neighbouring Wiltshire
Cornwall is receiving alternative cover from other services, including the Royal Navy's Search and Rescue from RNAS Culdrose
Several counties have redeployed clinical staff to rapid response road vehicles
Areas unaffected by the suspensions are: Warwickshire and Northamptonshire; Derbyshire, Leicestershire and Rutland; Lincolnshire and Nottinghamshire; Yorkshire; Wiltshire; Kent; Surrey and Sussex; London; Essex and Hertfordshire; and the Great North region.