Thalidomide victims plea for permanent health grant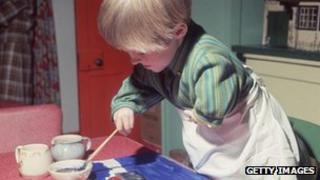 People affected by the drug thalidomide have urged the government to agree to a permanent financial settlement to help meet their rising healthcare costs.
The Thalidomide Trust wants an annual Department of Health (DoH) grant due to end next year extended indefinitely.
Some 472 men and women live in the UK with birth defects caused by the drug for morning sickness taken by their pregnant mothers in the 1950s and 60s.
The DoH says it is aware it needs to provide clarity for those affected.
Despite still receiving some compensation from the company - Distillers - that distributed the drug, many of those affected by thalidomide face financial hardship as their health worsens.
The government admitted a history of being at fault over the drug in 2010, and agreed to a three-year pilot project which distributed more than £25m in grants.
Much of the money was spent by survivors on adapting their houses, buying wheelchairs and funding personal care.
'Devastating'
But as the victims reach 50, many are now in chronic pain as their muscles and bones deteriorate.
Thalidomide Trust chairwoman Mikey Argy said she was worried the scheme may not continue next year.
"The fear of losing the health grant, I'm aware from many of us thalidomiders, would be devastating," she told the BBC.
"We have come to rely on it so hugely, we have evidence to show that we're finally being able to catch up and use the money for our health needs. Our health needs are hugely expensive."
Thalidomide was marketed as a mild sedative and a cure for morning sickness, but by the time it was withdrawn in 1961, more than 10,000 babies worldwide had been born with a range of disabilities caused by the drug.
This included shortened arms and legs, blindness, deafness, heart problems and brain damage.
The DoH said it was aware of the need to provide clarity for survivors and their families in good time before the end of the pilot process.
A spokesperson said: "The department has already met with members of the National Advisory Council to the Thalidomide Trust and is considering the best way forward for the future of the grant."