Home building should be easier, say MPs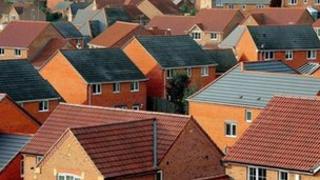 It should be easier for people to build their own homes in England to help the housing crisis, MPs have said.
A Commons communities select committee report said 230,000 households were forming each year, but in 2011 only 110,000 new homes were built.
However, the MPs warned there was "no silver bullet" to tackle the situation.
Welcoming the report, Housing Minister Grant Shapps agreed more action needed to be taken and the government was backing the "self-build boom".
In their report, the MPs suggested local authorities must get a greater say on housing projects, while pension funds and other investment funds should be encouraged to invest in building new homes.
Labour MP Clive Betts, who chairs the committee, said: "There is no silver bullet. We have to muster all the resources we can.
"The government's housing strategy has made a useful start and we hope many of its measures will provide a stimulus over the short to medium term.
"But we need more action if we are to see significant long-term improvement in housing supply."
The report found demand had outstripped supply of new build houses "for decades".
Mr Betts added: "Self-build schemes could be a major new source of housing in England, but it will take substantial institutional change to realise this potential.
"Government, local authorities and lenders must work together to remove the barriers that currently restrict self-build and commit to getting pilot schemes under way very quickly."
Mr Betts later told the Today programme: "The private sector, the volume building industry for sale, has built never more than 150,000 homes a year in this country, so clearly there have to be other means of providing those homes.
"Obviously homes for rent are a possibility, and we look at various ways in which funds could be made available through pension funds in particular - they need long term investments and housing is a good long term investment, a stable one - and we also look at the possibility of self build as a major new player in building homes for the future in this country."
'Fresh thinking'
Housing Minister Grant Shapps said: "I welcome the committee's comments and agree that we need more action.
"That's why I'm pledging to back the self-build boom and support the industry to double in size over the next few years."
Mr Shapps added that as well as providing help and advice to people who wanted to build their own homes, the government was also working to identify more land for housing and was changing planning rules.
Campbell Robb, chief executive of housing charity Shelter, said a "succession of governments" had "shown a lack of ambition in providing much needed affordable homes for this country".
"With house building at record low levels, we must see government doing more to deliver the homes that families are crying out for, as well as to provide a much needed kick-start for the construction industry which is so fundamental to creating jobs and growth."