Vince Cable 'feels vindicated' over BSkyB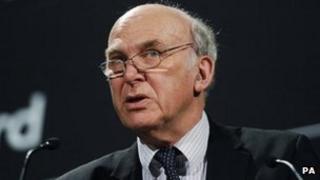 Vince Cable says he feels "vindicated" at keeping executives at Rupert Murdoch's News Corp at "arm's length".
The business secretary was stripped of the power to rule on the bid after he told undercover reporters he had "declared war" on Mr Murdoch.
News Corp later withdrew its bid over phone-hacking at the News of the World, which prompted the Leveson Inquiry.
Mr Murdoch's closeness to ministers has come under scrutiny over ministerial emails which emerged at the inquiry.
The emails between News Corp and the office of Culture Secretary Jeremy Hunt prompted Labour to ask the prime minister to order an inquiry into whether Mr Hunt broke the ministerial code.
Mr Cable told Sky News he had been "independent and objective".
He said he "certainly dealt with [the proposed bid] in an entirely proper and fair way".
Mr Cable, one of the most senior Lib Dems in the coalition government, came under fire after he spoke out against Mr Murdoch - at a time when had ultimate responsibility for the tycoon's bid to take full control of broadcaster BSkyB.
He told journalists from the Daily Telegraph - who were attending a constituency surgery in his Twickenham constituency and whom he believed were local residents - that Mr Murdoch's "whole empire was under attack".
Referring to the BSkyB bid, Mr Cable told them he had "declared war" on Mr Murdoch, adding "I think we are going to win".
Mr Cable retained his position in the Cabinet although he was stripped of powers to oversee the BSkyB bid and other media takeovers - which were handed to Culture Secretary Jeremy Hunt.
Mr Cable later said he had considered quitting over the row.
During his interview on Sunday, Mr Cable was asked about the conduct of Mr Hunt, who is under pressure after his special adviser resigned over what he admitted was an inappropriately close relationship with News Corp during its planned BSkyB takeover.
But Mr Cable refused to be drawn on that topic, saying Mr Hunt would soon be speaking in his own defence at the Leveson Inquiry into media ethics.
Leveson appearances
Meanwhile, former News International chief executive Rebekah Brooks will give evidence to the inquiry on Friday 11 May.
Mrs Brooks was the News of the World editor when voicemails on murdered schoolgirl Milly Dowler's mobile phone were intercepted.
It comes after a former police officer was arrested by police investigating corrupt payments relating to hacking.
Her successor, Andy Coulson, who went on to be Downing Street's director of communications, will give evidence a day earlier.
Chancellor George Osborne has defended the appointment of Mr Coulson, who took the job at Number 10 after he left the News of the World.
Speaking on the BBC's Andrew Marr Show, Mr Osborne said: "As I have said many, many times in the past, I approached Andy Coulson to see if he was interested in the job as director of communications for the Conservative Party.
"We needed a new director of communications and he was the best person for the job on the shortlist of candidates that we had.
"I will repeat exactly what I said a year ago, which is that knowing what I know now, of course we regret that position."