John Bercow says voters 'despairing' of politics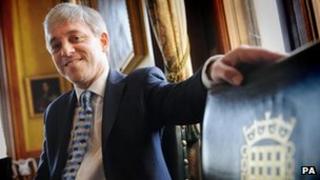 Commons Speaker John Bercow says voters feel let down by political parties because they are "suspicious or even despairing" of the political system.
The local elections saw a low turnout and the coalition parties lose seats.
People are disillusioned because the main parties are "quite similar" and there "isn't a huge choice", he told Sky News's Murnaghan programme.
Mr Bercow also said he has a good relationship with Prime Minister David Cameron but they are not "bosom pals".
The Speaker is expected to remain politically impartial at all times.
He said: "To some extent, [people] are suspicious or even despairing of formal politics as a means to give expression and effect to what they want.
"I think there is a wider dissatisfaction that people feel partly that the parties are still quite similar and perhaps there isn't a huge choice, and partly they feel, well 'I said what I wanted, and I voted accordingly, but I haven't got what I wanted or what I voted for two years ago'."
Mr Bercow was also asked about footage showing the prime minister scowling during his speech at the Queen's Jubilee address in Parliament's Westminster Hall.
The Speaker described the monarch as a "kaleidoscope Queen" during the event.
He said: "I have a good and constructive relationship with him. If you're asking are we bosom pals, no we're not, but we don't need to be, nor should we be."
He added: "I saw that he was caught in the camera shot - is that something that I've ever discussed with the prime minister? No it isn't... am I in any way bothered about or prickly over a thing like that, no not at all.
"I was trying to express what I thought was quite an important concept - namely that there has been dramatic change, in my view change for the better in this country which is vastly more diverse than ever before, and much of that change and increased diversity has taken place during the period that Queen Elizabeth has been our monarch."