Royal Logistic Corps soldiers killed in Afghanistan named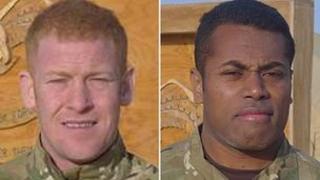 Two British soldiers killed in southern Afghanistan on Friday have been named by the Ministry of Defence as Cpl Andrew Roberts and Pte Ratu Silibaravi.
They died after a mortar rocket attack on their operating base in the Nahr-e Saraj district of Helmand province.
The soldiers, both 32, were from the Royal Logistic Corps, attached to 1st Battalion The Royal Welsh Battlegroup.
A total of 412 UK service personnel have died since military operations began in Afghanistan in 2001.
Both soldiers were deployed to Afghanistan on 11 March this year as part of an advanced search team in the operations squadron of the Explosive Ordnance Disposal and Search Task Forces. They were members of 23 Pioneer Regiment, based in Bicester, Oxfordshire.
Their team was involved in search operations to clear irrigation ditches and enhance the security of operating bases, as well as providing support to patrolling troops.
They died after Forward Operating Base Ouellette, in the northern part of the Nahr-e Saraj district, came under fire.
'Utterly reliable'
Cpl Roberts, from Middlesbrough, was a section commander and joined the Army in 1998. He had previously served on operations in Bosnia and Iraq and was on his second tour of Afghanistan.
Described as a "larger than life" character, he was said to be a very able sportsman and a highly regarded physical training instructor.
He leaves behind his girlfriend, Paula Ewers. Cpl Roberts had three children; Jessica, six, Kyle, five, and Kayla, three.
Ms Ewers said: "Andrew truly was a hero and I'm so proud of what he achieved, he was such a special, kind and caring person. I was blessed to have spent the past two and a half years with Andrew.
"I have lost my soulmate and my best friend. The memories I have of our time together I will hold in my heart forever."
In a statement, his children said: "For our brave Dad who went away to build sand castles and stop the bad men hurting people. We love you to the moon and back. You are an angel in Heaven now looking down on us all."
Cpl Roberts was known to his comrades as "Ginge" and his commanding officer, Lt Col Simon Bell, said: "His upbeat, determined nature balanced with humour, humility and understanding allowed him to command his advanced search team extremely effectively.
"His team were utterly reliable due to his professionalism and leadership abilities."
Lt Damien Turner, Advanced Search Advisor, 23 Pioneer Regiment said: "This was a man who wore his heart on his sleeve, who was honest, caring and altogether approachable.
"These words cannot do a man of his magnitude justice but I hope they come close."
Fiji-born Pte Silibaravi joined the Army in 2002 and had previously served in Iraq in 2003 and Afghanistan in 2006 and 2009.
He also undertook duties at Windsor Castle, Buckingham Palace, St James's Palace and the Tower of London in 2008.
He was also said to be a promising candidate for the Royal Logistic Corps Rugby Team.
Private Silibaravi leaves behind his parents and brother and sister, who live in Fiji.
'A delight'
Paying tribute, Col Bell said: "Pte Silibaravi was a professional and committed individual. Strong and fit, he had an excellent work ethic, throwing himself wholeheartedly at every challenge.
"The number of operational tours that he had successfully completed is testament to his dedication and professionalism."
Maj Ben Hawkins, from the explosive ordnance disposal and search task force, said: "Private Silibaravi, or 'Sili' as he was more commonly known, was a quiet, composed and determined individual.
"Well respected by his team and exceptionally level-headed, Sili was truly a delight to be around. As a man of few words, he knew how to make his presence felt with his actions speaking louder than his words."
Pte Qalo of the Royal Logistic Corps said Pte Silibaravi was known for his "caring and good-hearted nature".
"I went to Afghanistan with him in 2006. He's the type that is always up to any challenge, who will give his all for anyone. A comedian and an entertainer, everyone knew him in the community."