'Gay' man's deportation from UK to Cameroon halted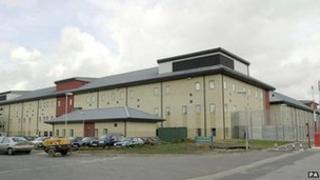 The deportation of a man to Cameroon has been temporarily halted after he refused to board a flight from London to Paris, the BBC has been told.
Campaigners say Ediage Valerie Ekwedde's life is at risk, because he is gay, and should not be removed.
Mr Ekwedde fears persecution in Cameroon but the UK Border Agency found "no credible evidence" he was gay.
It is understood the 26-year-old is being held at Harmondsworth detention centre near Heathrow.
He was to be flown to Paris to catch a connecting flight.
Air France said its 07:10 BST flight from Heathrow to Paris Charles de Gaulle was delayed on Saturday morning due to "operational difficulties".
Campaigners said he managed to get a message to the Air France pilot saying that he would "make a fuss" because his life was in danger.
According to the campaigners, the pilot is said to have decided not to fly with him out of consideration to the other passengers.
Mr Ekwedde, arrived in Britain last November claiming he had been persecuted in Cameroon because of his sexuality.
In July 2010, the UK Supreme Court ruled that two gay men from Cameroon and Iran were entitled to refugee status in a landmark ruling.
The Supreme Court heard that in Cameroon jail sentences for homosexuality ranged from six months to five years.
A UK Border Agency spokesperson said: "We and the courts found that this individual is in no need of asylum. When someone is found not to have a right to be here, we expect them to leave voluntarily. If they fail to do so, we will seek to remove them.
"We have already changed our guidance to ensure that we do not remove individuals who have demonstrated a proven risk of persecution on grounds of sexual orientation. When someone needs our protection, they will be given it."