Ken Livingstone: End of the road for political heavyweight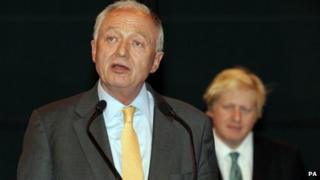 Ken Livingstone says his loss to Boris Johnson in the race to become Mayor of London was one he "most regretted" and that it would be his "last election". The BBC's Andrew Hosken, who has written a biography of Mr Livingstone, says while he might be a divisive figure, he is certainly unforgettable.
Ken Livingstone was always the quintessential political survivor until the arrival on the scene of Boris Johnson in 2007.
Since, there has been a battle royal between the two political enigmas of the decade culminating in Livingstone's second defeat in the battle for Mayor of London.
Livingstone announced at his declaration that he doesn't intend to stand for election again. Approaching 67 and with two mayoral defeats behind him, he has at last submitted to the laws of political gravity and accepted the inevitable: that he is spent as a political force in London.
The result was much closer than many pundits had anticipated. A YouGov poll not long before the poll suggested a Boris cakewalk, with a lead of six per cent.
That narrowed remarkably, mainly thanks to determined efforts by Labour in inner London to get its vote out.
'Spent force'
Paul Waugh, editor of PoliticsHome.com, said: "There's no question by losing a second mayoral election that is anything other than an abject failure. Ken will be bitterly disappointed. Ed Miliband in particular will be disappointed of course but Ken just wanted four more years to prove he could be manager of the city as well as being a politician.
"There's no question he is a spent force politically - it's the end of the road. He has no ambitions outside London and no national ambitions."
Livingstone made no secret of his frustration of being on the back benches during his 14 years as MP for Brent East. But he failed to persuade any Labour leader to give him a front bench role. He was considered to be a trouble maker by former leaders such as Neil Kinnock and Tony Blair.
Tessa Jowell, Labour MP for Dulwich and West Norwood, ran Livingstone's campaign and also worked with him when she was secretary of state for culture, media and sport to secure the 2012 Olympiad for London seven years ago.
She told the BBC: "The Livingstone era will be imprinted on the soul of London for as long as I am alive."
She denied Labour had picked the wrong candidate and insisted many people came out to vote for Ken Livingstone.
She added: "Has Ken annoyed people? Is he confrontational? Does he sometimes appear to go out of his way to pick a fight? Yes, he does all those things, but he's also capable of incredible charm and tenderness.
"Ken has, in his own way, has been a great visionary about London. Can you imagine many politicians being prepared to introduce the congestion charge in the way he did or having the vision to completely recast the transport system in London and to understand the nature of this city?"
Uncertain future
His supporters pointed out Livingstone's achievements during his eight years as mayor, including the improved bus service, the establishment of the Greater London Authority and mayoralty and the successful integration of the capital's overland train service.
Professor Tony Travers, from the government department of the London School of Economics, said: "I think Ken Livingstone will be remembered, along with Herbert Morrison, the great London County Council leader of the late 1930's, as one of London's great political figures - someone very much of London.
"It's true Morrison went on to play a role in national government and Livingstone would like to have done but did not. But the truth is that Ken Livingstone will be remembered long after his demise of every kind as a major London political figure in the way that Morrison still is and that can never be taken away from him."
It is too early to say what Livingstone will do now. Friends said he will concentrate on his home and family. It is certain he will continue to earn a living from his media work as well, possibly, a role advising other cities on issues such as regeneration.
Leaving aside his legacy and achievements, there is little doubt Livingstone feels disappointed at his defeat.
He said: "This is the defeat I most regret because these are the worst times for eighty years and Londoners needed a mayor to help them get through this very difficult period by cutting fares and by cutting energy prices and putting people back to work and by building good council homes.
"I am sincerely sorry to those Londoners who desperately wanted us to win that I failed to do that."