Turkish court hearing in Duchess of York secret filming case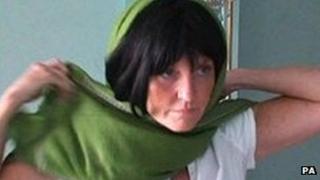 A hearing has taken place in Turkey in a court case in which the Duchess of York has been accused over the secret filming of orphans for a documentary.
Sarah Ferguson is being defended by a Turkish legal team but has declined to go to Ankara for the trial.
She is accused of violating the privacy of children during the filming for ITV.
The duchess has previously apologised for any offence, but says she stands by the 2008 documentary's conclusion that ill-treatment was taking place.
If found guilty, she could be sentenced to more than 20 years in prison.
BBC correspondent Jonathan Head says the duchess has made it clear she will not return to Turkey and British officials have insisted there is no possibility of her being extradited.
Tied to beds
Posing as an aid worker, the duchess accompanied a television crew into a state orphanage in Ankara.
Scenes were recorded of alleged ill-treatment, including emaciated children tied to their beds and left in cots all day.
She visited a second institution in Istanbul with her daughter Princess Eugenie, who said conditions endured by the children there had "opened her eyes."
The documentary - which also included footage of children filmed in Romania - was broadcast on ITV1's Tonight programme in Britain in November 2008.
It provoked an angry reaction from Turkish politicians, who accused the duchess of being involved in a campaign to tarnish their country's reputation.
Human rights record
BBC presenter Chris Rogers, who was part of the ITV programme team in 2008, said they knew it was against Turkish law to film in secret, but that the public "needed to know."
Speaking earlier this year, Mr Rogers, who is also charged with invasion of privacy, said there was "a strong public interest argument for us to do this" because Turkey might join the EU soon.
Mr Rogers said Turkey has been told it must improve its human rights record, before it can become a full member of the European Union.
When charges were first laid in January, the duchess said she had gone purely as a mother, and was "happy with courage to stand by the film."
The trial could last for several months.