London 2012: Plans for Olympic Park big screen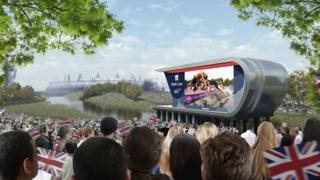 Plans have been unveiled for a 10,000-spectator area with a giant screen showing live events in the Olympic Park during the Games.
Those with tickets for sporting venues in the park will be able to access it on a first-come-first-served basis.
Games organisers hope it will become the Olympic equivalent of "Henman Hill" at Wimbledon.
The 14m high screen will be located on a special platform in the River Lea.
Seb Coe, chairman of organising committee Locog, said: "Whether it's 'Halsall Hill', 'Pistorius Park' or 'Dai Greene Fields' our plans for Park Live will create a green and colourful place for fans to cheer their heroes and soak up the Olympic Park atmosphere."
"Park Live", which is the fifth largest venue on the Olympic Park, is being presented by British Airways. It will be open from early morning until late evening.
Up to 1,000 volunteers from the airline and their families will help to welcome spectators over the Olympic and Paralympic Games.
Entertainment will include on-stage interviews with athletes and other stars and films on the creation of the parklands.
The screen is the height of three double-decker buses and will be viewable from both sides of the River Lea.
Locog said it was still working towards giving people without tickets for the sporting venues general access to the Olympic Park during the Games.