Good Beach Guide: Record number get top award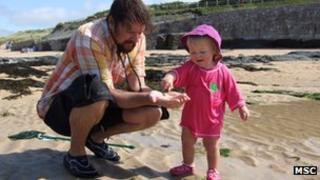 A record number of UK beaches have been given the top award for water quality in the latest Good Beach Guide.
This year 516 out of 754 UK beaches were recommended for "excellent" water quality, compared with 461 in 2011.
But the Marine Conservation Society is warning that heavy rains are washing raw sewage from overflow pipes and pollution from towns and rural areas to bathing areas.
It warned authorities not to become complacent.
The group's annual guide also reveals areas which are not successfully tackling poor water quality, with four beaches at Blackpool and nearby St Anne's among those once again failing to reach mandatory levels for clean water.
The results of the latest guide, based on testing carried out last summer, show more than two-thirds (68%) of the total number of bathing spots are "excellent and there is an 8% rise in the number of beaches getting the best grade.
However, 25 beaches failed to achieve mandatory levels of water cleanliness.
The Marine Conservation Society (MCS) says the picture is patchy around the UK, with less than half (41%) of Scotland's beaches getting the top grade, a 5% drop on the previous year after the country was hit by heavy summer rains and above-average rainfall in 2011.
North-west England achieved the top "recommended" level for just over a fifth of its beaches.
With the first measurements being taken this summer under new, more stringent European Union water quality rules which come in in 2015, the MCS is warning against complacency over improving standards.
Coastal pollution officer Rachel Wyatt said it was important that local authorities, water companies and environmental regulators did not become "complacent" and "take their collective feet off the pedal of continued environmental improvements".
"If that happens we could see a drop in the number of beaches recommended by us in the future, which could pose a risk to the great reputation British beaches have," she said.
One of the major threats to bathing water quality is overflow pipes which discharge raw sewage into rivers and the sea from sewer networks when heavy rain overloads the system with water from street drains.
The MCS has previously revealed there are about 31,000 of these "combined sewer overflows" around the country, more than three-quarters of which are not monitored to see how often they are discharging polluted water.
The conservation society is concerned that some of them are discharging untreated sewage dozens or even hundreds of times a year, and is calling for monitoring of all the overflow pipes around the country in order to find out how often they were discharging polluted water so steps could be taken to manage them.
The other risk to bathing waters caused by heavy rain is diffuse pollution washed into rivers and coastal areas from the countryside and towns as a result of downpours.