April temperatures lowest since 1989, Met Office data shows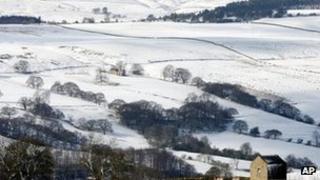 Temperatures across the UK in April were the lowest in 23 years, Met Office figures suggest.
Provisional data from weather stations across the country shows the average temperature was 6.3C, with the average lowest temperature recorded being 2.5C.
It was about 5C cooler than April 2011 and colder than in March. The average highest temperature was 10.1C.
On Monday, monthly rainfall passed the record 120.3mm set in 2000, making it the wettest April since records began.
Snowfalls
Data last month showed March was the third warmest on record, averaging 7.7C.
But at the start of the April, the Met Office issued a severe weather warning, as snow fell in part of the north of England and the Midlands.
England saw an average temperature throughout the month of 7.1C. Wales recorded 6.5C, Scotland 4.9C and Northern Ireland 6.5C. The average temperatures are measured across every hour of the day and night.
The Met Office said no weather station across the UK registered a temperature of 20C or above in April, the first time this has happened since 2006, and 1989 before that. This is in contrast to March this year where the 20C barrier was broken regularly.
The data shows there were 127.7 hours of sunshine in April, 90% of normal.
The April statistics also confirm the amount of rain which fell was almost double the long-term average for April of 69.6mm, in records dating back to 1910. The total amount of rainfall in April was 126.5mm.
The Met Office said six of its weather stations had seen more than three times their usual monthly average this April.
But despite the recent wet weather, large parts of England are in drought.
Environment Secretary Caroline Spelman has suggested standpipes could be needed in the streets next year if England endures another dry winter.