MI6 officer Gareth Williams and the 'missing hours' before his death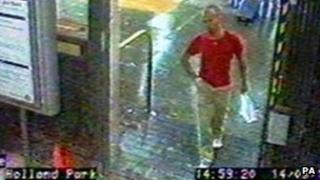 Just after 15:00 BST on Sunday 15 August 2010, a young man strolled into Alderney Street in Pimlico clutching two carrier bags.
CCTV shows the slim, wiry figure, in chinos and a red T-shirt, heading towards a block of flats at number 36.
It was the last time Gareth Williams was seen alive.
What happened in the next 19 hours, before the time Gareth was expected at his desk at the headquarters of MI6, holds the key to his death.
But there is little that is known with any certainty about those mysterious, missing hours.
Evidence heard at the inquest suggests that during the evening, Gareth cooked one of the two peppered grill-steaks he had bought from Waitrose that day, and had it for his supper.
There are also indications that at 23:30 BST he backed up data to a laptop from one of his phones, before viewing a cycling website at about 01:00 BST.
However, even these details cannot be confirmed - as it is possible someone else may have been using his phone and computer.
Like much of the case, speculation fills the void of those missing hours. In a way it is entirely in keeping with the strange and secretive life that Gareth Williams led.
'Somewhat naive'
To his friends, colleagues and family Gareth was an exceptionally gifted and hard-working young man whose spare time was spent on outdoor pursuits - rock-climbing, fell-running and cycling.
He also loved art, fashion, good food and shopping - Harvey Nichols and Harrods were just two of the stores he had visited that weekend.
But Gareth did not get close to many people. His former landlady in Cheltenham, Jennifer Elliot, described him as a "private person" who "kept himself to himself" and rarely had visitors.
Cheryl Eastap, who ran a 10-week fashion course at Central St Martin's College, in London, said that Gareth attended without his friends knowing, and that he was a "loner" who was very nervous and kept apologising.
"I considered him to be naive somewhat", she said in a statement read to the inquest, "not worldly or streetwise."
'Scruprulous risk assessor'
It is an interesting description that perhaps should have received closer scrutiny at the hearing than it did.
Did Gareth get himself into a situation in his private life where he was out of his depth? If so, what could it have been?
Although Gareth's sister, Ceri Subbe, said he was the "most scrupulous risk assessor" she had ever known, he had interests that his sister - to whom he was arguably closer than anyone else - did not know about, and which may have posed considerable risks.
One of his interests was in bondage. It may have been no more than curiosity that drew Gareth to view bondage websites, but the evidence is, that on one occasion at least, he took his interests to another level.
In 2007, Jennifer Elliot was woken in the middle of the night by Gareth's cries for help. The Cheltenham landlady and her husband found him in his boxer shorts, lying on his bed, his hands tied to the knobs of the headboard.
"He just said 'I just wanted to see if I could get myself free'," said Mrs Elliot in a statement.
She and her husband thought the escapade was a sexual act rather than an attempt at escapology, and Gareth promised his landlady it would not happen again.
But within two years he was in London, which would have afforded him greater opportunities to experiment if he had wanted.
Nothing has been discovered so far to suggest that Gareth did meet anyone in the capital who shared such interests, let alone invite them back to his flat.
But secrecy was the MI6 officer's trade. If he had wanted to keep something hidden in his private life, he would have surely found a way.
London certainly did provide Gareth Williams with the chance to indulge his love of women's fashion.
It might even be called an obsession. He had accumulated a collection of designer clothes and footwear worth around £20,000.
Identity crisis
Neither his closest friend, Sian Jones, a fashion stylist, nor Elizabeth Guthrie, with whom he was planning to attend a fancy dress ball, knew about the dresses and shoes.
That is perhaps more significant than the collection itself. It is another illustration of Gareth's secretive nature and suggests a hinterland of which no-one else was aware.
What else was hidden away? Gareth surely never intended that a video of him naked but for a pair of boots, bending down and wiggling his hips in front of a camera, would be found by a policeman and referred to in a courtroom. So who was it intended for?
Police investigators have tried to find out.
Almost 18 months ago, they appealed for information to confirm sightings of Gareth Williams at a gay bar in the Vauxhall area.
He had tickets for drag shows in the area and had previously gone to see Jonny Woo - a drag cabaret act - in east London.
But detectives appear to have made little progress tracking down anyone he met or with whom he was romantically involved.
What does appear clear, however, is that Gareth was to some extent struggling with his identity.
The wigs found in his flat, as well as the female clothing and shoes, may well be one sign. Another clue is provided by a newspaper clipping, found under a book on his living room table.
The cutting, from an Observer article, listed the "Top five regrets of the dying". Among them was having the courage to "live a life true to myself", "express my feelings" and "let myself be happier".
Those last unexplained hours of Gareth Williams' life were probably not happy ones. But the details of what went on remain as puzzling as the man himself.
Gareth Williams: What the evidence tells us