Ofcom 'won't be rushed' on BSkyB licence decision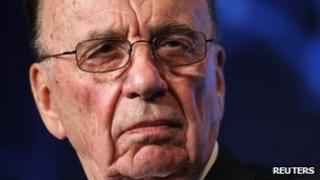 Ofcom will not be "rushed into a knee-jerk reaction" on BSkyB's broadcasting licence, the BBC understands.
The regulator is considering whether BSkyB is "fit and proper" to hold a licence, given News Corp's 39% stake.
Labour and the Lib Dems have urged Ofcom to hasten its review after an MPs' report said Rupert Murdoch was "not a fit person" to run News Corp.
In a statement earlier, BSkyB said it remained a "fit and proper" holder of a broadcasting licence.
Announcing its results for the first quarter of 2012 , the satellite broadcaster said it was engaging with Ofcom on its assessment.
It pointed to a "positive contribution to UK audiences, employment and the broader economy, as well as its strong record of regulatory compliance and high standards of governance".
The Liberal Democrats wrote to Ofcom on Tuesday urging it hasten a review of BSkyB's licence, after the Commons Culture, Media and Sport Committee released its report into phone hacking at News International. News International is a subsidiary of News Corp and published the now-defunct News of the World (NoW) tabloid.
Committee disagreement
Labour leader Ed Miliband has also said the regulator needs to "add urgency" to its investigation.
The BBC has been told Ofcom wants to be "fully appraised" before it reaches any conclusions and that the review will take "as long as it takes".
But the regulator has previously said it would not wait for the conclusion of any criminal proceedings over hacking before making a judgement.
Meanwhile, First Minister Alex Salmond has refused to say whether he was the victim of phone hacking as he dismissed calls for a separate Scots inquiry into hacking.
He said he would be discussing a "range of matters" when he goes before the Leveson Inquiry on press standards, next month.
On Tuesday, the media committee concluded that Mr Murdoch was "not a fit person" to run a major international business, although four of the 10 committee members disagreed, with the MPs split on party lines.
Conservative member Louise Mensch criticised Labour members for including the "not fit" line and said the report had lost credibility.
During a visit to Southampton, Labour leader Ed Miliband denied that his MPs' criticism had harmed the report but said he wished it had been unanimous.
"I think they were completely right to come to the conclusions after looking at the evidence," he said.
The media committee's report also accused three former News International executives - one-time executive chairman Les Hinton, former News of the World editor Colin Myler and former legal manager Tom Crone - of giving misleading evidence to Parliament.
News Corp said some of the comments in the committee's report were "unjustified and highly partisan".
In an email to staff at his UK newspapers on Tuesday night, Mr Murdoch said the business could grow "better and stronger" following the phone-hacking scandal.
The MSC was set up after it was revealed reporters at the now defunct News of the World (NoW) had hacked into the mobile phone of murdered schoolgirl Milly Dowler.