Blumenthal's Dinner named best UK restaurant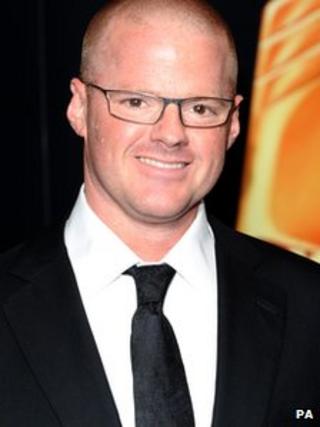 Dinner by celebrity British chef Heston Blumenthal has been named the best restaurant in the UK at an international award ceremony.
The London outlet appeared ninth in the World's 50 Best Restaurants award, which was topped by Noma of Copenhagen.
Mr Blumenthal's main Michelin starred restaurant, The Fat Duck, in Bray, Berks, has dropped out of the top 10 on the world's best restaurants' list.
The rankings were announced following a survey by Restaurant magazine.
Dinner opened with a fanfare in February 2011 and is well-known for dishes such as roast marrowbone with anchovy and mace, spiced pigeon cooked in ale, and Quaker pudding with pear and perry.
'Brilliant result'
"Blumenthal's historically influenced British cooking has proved hugely popular with both the local and international judging panels," a statement by the magazine said.
"I am really happy with the news. To have two restaurants side-by-side so high up the list is a brilliant result", a statement issued by Mr Blumenthal said.
"The Fat Duck is better now than it has ever been and I am extremely proud of the whole team there, and the Dinner team have done a magnificent job since opening only a year ago."
It is the third year in the row that Noma took the best restaurant award.
The magazine cited the restaurant's chef Rene Redzepi's attention to detail and innovative approach, describing him "the standard bearer for the New Nordic movement".
Noma seized the top spot in 2010 from Spain's El Bulli, which has since closed.
Spanish restaurants El Celler de Can Roca and Mugaritz held to their second and third places respectively.
Another London restaurant in the 50 best restaurants was The Ledbury, in Notting Hill. It climbed 20 places to number 14.
Chef Brett Graham said: "A couple of years ago we never would have dreamed that we were in the list.
"We didn't even consider it actually and I was surprised we got an invitation last year."