Group offers to free hostage in Abu Qatada deal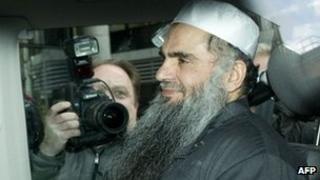 A militant Islamist group in North Africa has offered to free a hostage if Britain releases cleric Abu Qatada.
Al-Qaeda in the Islamic Maghreb (North Africa) said the cleric must be allowed to go to an "Arab Spring" country or a destination of his choosing.
It claimed the hostage, who was seized in Mali in November, had dual British and South African nationality.
Britain wants to deport Abu Qatada to Jordan, but the European Court of Human Rights is considering his case.
The group said Britain would "bear the consequences of handing Abu Qatada to the Jordanian government" if it ignored the offer.
Abu Qatada, 51, a Palestinian-Jordanian, faces charges in Jordan of plotting bomb attacks.
He was released on bail from Long Lartin prison in February, and re-arrested on 17 April as the government prepared to deport him to Jordan.
Home Secretary Theresa May told MPs about fresh assurances that the radical cleric would get a fair trial.
Home Office officials had thought his three-month deadline to appeal to the ECHR expired on 16 April.
But the following day the ECHR said it had received a last-minute appeal from Abu Qatada's lawyers.
They say the deadline to appeal did not run out until 17 April, something Mrs May disputes.